Moscow 3 days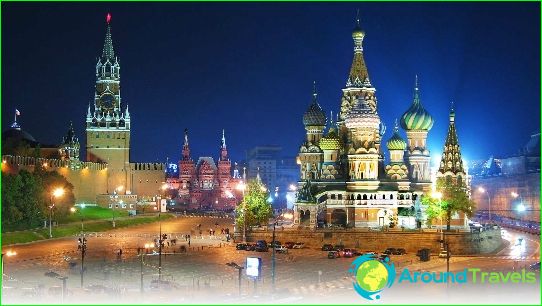 Going to the Russian capital for leisure orBusiness, city visitors eager to see all the major sights of Moscow. List of memorable places worth visiting, really huge, and therefore the whole of Moscow for 3 days - a huge project, but very interesting.
UNESCO, the Organization has made several capital objects in the register of World Cultural Heritage:
Moscow Kremlin, whose construction was carried outin the second half of the 15th century. On the territory of the architectural monument of special attention is drawn to Troitskaya Tower - the highest among the rest - and Nikolskaya Tower, which differs from the other pseudo-Gothic style. In the Kremlin, built the magnificent monuments of temple art - Assumption, Archangel and Annunciation Cathedral. Monuments are the Tsar Cannon and the Tsar Bell.
Red Square, is rightly called the heartcapital Cities. A stay at the Red Square, then touch the most important pages of Russian history. Here stands the magnificent St. Basil's Cathedral and the monument to Minin and Pozharsky reminded of their role in the country's unification in the terrible times of turmoil.
Novodevichy Convent, founded by the first half of the XVI century was Vasily III. The monastery is dedicated to the Smolensk Icon of the Mother of God, and today in its walls is a museum of the Moscow diocese.
Church of the Ascension in Kolomenskoye, is being built inthe first third of the XVI century. The church is the first stone tent on the territory of Russia. The temple was erected in honor of the birth of Ivan the Terrible, the heir to the king of Basil III.
For our younger brothers
The ideal continuation of the tour "Moscow 3day "can become a walk through the capital's zoo. It has a 150-year history, and its enclosures are more than 1,100 species of animals. Founded in 1864 by the Imperial Society of acclimatization of plants and animals, the zoo has become a real museum in the open air.
Among the most popular expositions of the Moscow zoo - a giraffe house and Dolphinarium, birds of prey and rock elephant, African ungulates and large pond.
The brainchild of Pavel Tretyakov
Excursion to the State Tretyakov Galleryoften becomes another important point for exploring the sights of Moscow for 3 days. Founded by merchant Pavel Tretyakov in 1856, the museum has a worldwide reputation as one of the largest collections of paintings.
The most important work of all storedin the Tretyakov Gallery, highlight the difficult, but the most monumental - "The Appearance of Christ to the people," Alexander Ivanov, and "Morning in a pine forest" Ivan Shishkin. Admirers of icon of the genre come to the gallery to see the "Trinity" by Andrei Rublev.
Virtual tour of Moscow
Photo