Russian Food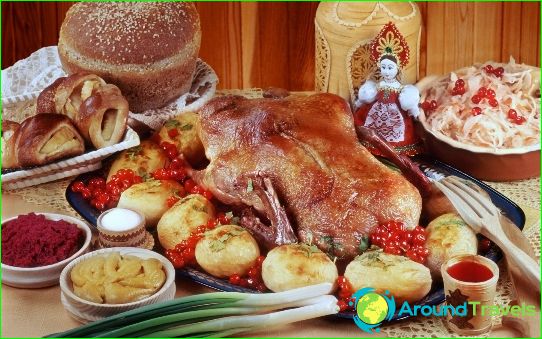 Russian cuisine is one of the most popularin the world. It involves a huge number of soups, meat, fish, sweet and other dishes. Modern food except the Russians Slavic traditional dishes include recipes cuisines of different nationalities who live in the vast territory. In addition, the observed and the Soviet legacy in Russian cuisine. Food Russia can be divided into daily and holidays. Official dishes for the holidays are based on complex recipes. For their preparation requires a lot of time and products. The dishes are prepared every day a lot easier and consist of the usual ingredients. Such food reflects the character of Russian cuisine.
Key products
Many Russian food prepared from vegetables. Most often use tomatoes, turnips, potatoes, cucumbers, radishes and cabbage. Delicious vegetable dishes made with spices. Russian feast features a large number of delicacies. Priorities are salmon, sturgeon, black and red caviar, pickled and salted mushrooms and others. As flavorings used Russian parsley, dill and celery. In recent years, the popularity gained spices brought from other states: cloves, cardamom, cinnamon, pepper. Almost all the main dishes include a part of the bow. In Russia, they eat a variety of cereals, fruit and fish. As for the fish, then it is dried, boiled, smoked, baked, fried and salted. Of great importance are the meat products. Russian table was always rich in food with poultry, beef, lamb, pork.
Features dishes
Everyday recipes are simple. They do not require special skills and equipment. Delightful dishes Russia can prepare anyone. The centerpiece on the table is given soups. In Russia, the soup is served on the first lunch. Typical cuisine soups are cabbage soup, pickle, halophyte, hash, stew. The board is required to serve snacks. They have a spicy flavor and contribute to the emergence of appetite. For starters include dishes such as salad, fish in aspic, jellied meat, salted herring, and others. Russian cooking focuses on pastries and bread. From time immemorial, the guests were welcomed with bread and salt. The symbol of prosperity and wealth were the pies. Russian hostess famous for their ability to bake pancakes, pies, muffins, pie, cheese cakes, etc.. Great popularity has always had cakes with different fillings. As for the Russian meat dishes, they are served with noodles, cereals and vegetables. Common are such dishes as beef stroganoff, beef goulash, pasta nautically, pork chops, roasts, "Pozharsky" cutlets, dumplings, goose with apples and others.
Photo