Viewpoints Moscow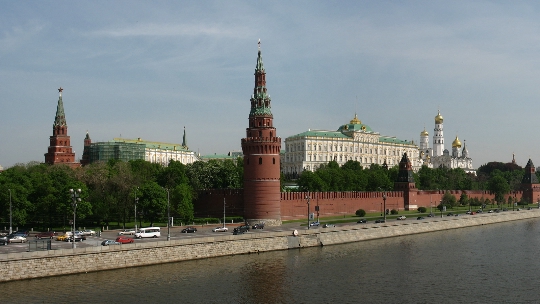 Moscow - it is not only the largest and mostthe main city in the country, Moscow is rich in beautiful places and attractions that are visited by people who came here on business and tourists alike. Feel free and safe to say that the viewing platforms of Moscow - one of the most popular and visited places that allow you to see the city from a height, panoramic views, and "catch" a little dizzy from the sensation of altitude.
Best viewing platform in Moscow
Lookouts that allow to see Moscow from a height, quite a lot. Consider the most popular platforms.
The unique view of the central part of the city -Kremlin, the Cathedral of Christ the Savior, Patriarchal bridge and a number of other well-known sites of the capital opened observation deck of Christ the Savior. It is located at a height of over 40 meters, and there is not so easy on this site. It is necessary to contact the tour office (it is located at the entrance of the Holy Transfiguration church from Soymonovsky directions). To get to the site can only be accompanied with the tour group, on the way to the goal to go through many "obstacles" in the form of doors with locks and surveillance cameras.
Another popular lookout Moscow areaIt is located in the belfry "Ivan the Great". You can get here on any day except Thursday. The pass is strictly by ticket only and strictly at the specified time for the session (10:00, 11:15, 13:30, 14:45). platform height - 25 meters, to overcome the 137 steps, so older people and small children are not recommended to visit.
Indescribable beauty of words opens from height230 meters above the Moscow River - is an observation platform, Moscow State University them. Lomonosov. It is located on the 32 floor of the main building of the university, is open daily, except Sundays, from 10:00 to 20:00 (the start time is the last group tour). Duration of excursion - 1-1,5 hours, depending on which objects to visit even included.
And, of course, the most popular viewingMoscow area should include site Ostankino television tower. It is available to attend every day, except Monday, from 10:00 to 20:00. The excursion program takes approximately 1 hour. The site is located at the address - street Akademika Koroleva, house 15, building 2, entrance number 2 (Metro ENEA).
Closes the "top five" in the list of popularlookouts area of ​​the capital on the Sparrow Hills. It is rightly called one of the business cards the tourist capital, it offers a breathtaking view of the city. The observation deck on the Sparrow Hills offers a splendid view of such sights of Moscow, as the Sports Arena "Luzhniki", the temple of Christ the Savior, "Moscow City", Moscow River, Ostankino TV Tower, etc. platform height - 80 meters above the Moskva River.
Photo