Viewpoints Vyborg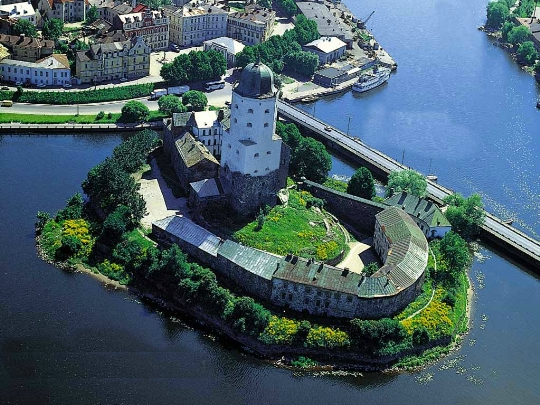 Anyone planning to visit the viewing platformVyborg will be able to admire from the height of the Alley of sculptures, medieval houses of 15-16 centuries boulder, a bastion Pantserlaks, Central Library building, the Church of St. Hyacinth, and other objects.
St. Olaf Tower in Vyborg Castle
After visiting the observation deck (one of the best incity), the tower of St. Olaf, travelers will be able to enjoy panoramic views of Vyborg, in particular the old town, and the surrounding area within a radius of 30 km (you can see the Castle Bridge and the island Tverdysh). Since the elevator in the tower there, then get to the top is obtained by overcoming the more than 200 steps on a fairly narrow stairs. The site is open every day from 10:00 to 18:00 (on Fridays - 17:00). The cost of visiting the museum - $ 100 / adult and 90 rubles / beneficiaries and children (for photo-filming will have to pay 30 rubles, and for filming - 60 rubles).
Guests are invited to 6 permanent thematicexposures to acquaint them with the history of the city and the castle, the nature of the Karelian Isthmus, "an underwater mystery of the Baltic" (exhibition presented findings raised from the bottom of the Gulf of Finland). In addition, the museum hosts regular jousting tournaments and music festivals, which should attend. Tickets to visit the observation deck - 80 rubles / adults and 60 rubles / beneficiaries and children (for the purchase of tickets to the museum and the site you need to go into the inner courtyard of the castle).
How to get there? From w / e and bus station can be reached by bus number 6, 1, 12, 2 (Address: Castle Island, 1)
Battery Mount
On the territory of Central Park is the mountain PatareiKalinin, so walking here before the tourists will open a good view of the Vyborg, and here they will see preserved strengthening (dilapidated walls, wells, ruins powder magazines), as well as the stadium, nestled at the foot of the mountain.
Address: Nekrasov street, 37.
Panoramic restaurant "Taste"
Guests can enjoy delicious placesItalian and Japanese cuisine, and vistas of the historical part of Vyborg. In the summer, you can move to the open terrace on the roof of the building and to order from the grill menu.
Address: Embankment of the 40th anniversary of the Komsomol, 1 (7th floor at IBC "Victoria").
Mon Repos Park
Guests Vyborg will be another opportunityenjoy spectacular views including the Gulf of Vyborg - they should visit the rocky landscape park Mon Repos (entrance fees - $ 100 / adults, those aged 16-18 years - 50 rubles; children under 16 - free of charge), where to also be able to admire the monuments of wooden architecture in the classical style. From w / e and bus stations here can be reached by bus number 1 or 6.
Photo