Rest in Moscow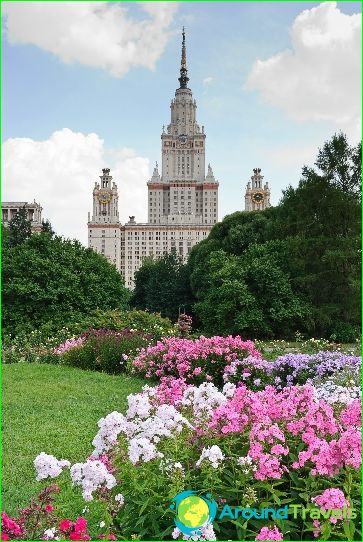 Rest in Moscow - this is an opportunity to explore the city and its architectural and historical monuments, as well as spend your holiday entertaining.
The main types of recreation in Moscow
Sightseeing: the excursions you will be able to see the Kremlin, Tsar Cannon, Red Square, Ostankino Tower, the Arc de Triomphe, the Novodevichy Convent, Christ the Savior Cathedral. If desired, you can go on an excursion to the "Russian Compound" (in this complex are craft workshops, exhibitions, workshops and festivals Slavic) in Tsaritsyno and Kolomenskoye on a sightseeing trip on the Moscow River. For lovers of unusual excursions in Presnensky park opened Gallery of Russian Ice Sculpture - admire the sculptures made of artificial ice whenever possible (at the beginning of the tour you will be shown how to make masterpieces out of ice).
Active: if you wish, you can play paintball, bowling, go-carting on the indoor and outdoor carting circuit. Extreme tourists can descend into the underground bunker of the USA and the USSR confrontation times, or fly in aerotrube.
Family: Many couples go to Moscow for one day to visit some entertainment. So, you can go to the theater, the ballet, the circus or amusement park, Dolphinarium, Planetarium, Space Museum, Puppet Museum, Chocolate Museum. With children, you can go to the studio "Soyuzmultfilm", where children learn how to create cartoon characters, watching cartoons, take part in a master class "Young animator".
prices
The price level on tours in Moscow depends on the season. Come to rest in Moscow, you can almost all year round, but the best time to travel to the Russian capital - from June to early September. This period is considered the high season, so the cost of tours to Moscow increased significantly. On the tour you can come in early May (it is possible to save 15-20%), when a pleasant weather. Despite the fact that summer in Moscow can be quite stuffy, this time of year, you can relax in the numerous parks and gardens of the city.
On a note!
In Moscow, you'll need a change of clothes and shoesfor the season, an umbrella, a hat, sunglasses. If you set out on a tour, designed for the whole day, it is advisable to bring along a small bag and bottled water.
On vacation in Moscow, especially in crowded places, should be very careful: becoming a victim of a pickpocket, a thief - not a rare phenomenon.
It should be borne in mind that in the photo and video shooting when visiting almost all facilities charge a fee, and in some monasteries, and it does not allowed.
From Moscow should bring Russian samovar, a set of dolls, dishes and products from Gzhel, Zhostovo tray balalaika.
Virtual tour of Moscow
Photos rest in Moscow