Excursions in Orel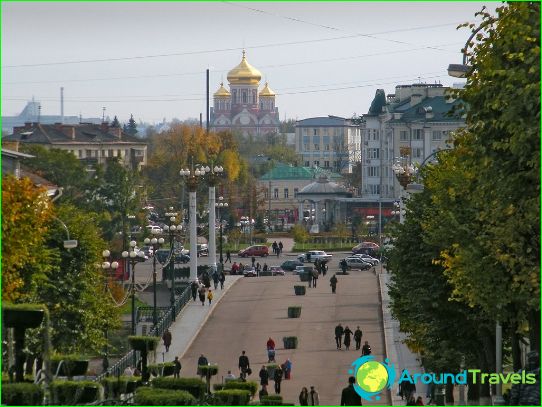 Eagle - small but cozy and beautiful townRussia. The history of the village began in 1566, when Ivan the Terrible issued a decree to establish the provincial center. Excursions in Orel allow many tourists to admire the beauty of Russian architecture, learn about the many interesting historical events and have a good weekend.
Sightseeing excursions
In the factory area is mostattractions. It is mandatory to be seen Flat House, visit the museum of the writer Leskov. It is important to note that the excursions include a visit to the museum of literary centers in Orel their six. If desired, you can visit the museum and the remaining four, because ticket prices are democratic.
The most remarkable sights of the Eagle
Epiphany Cathedral.
Epiphany Cathedral is the oldeststone building in the city. Construction accounted for 1640th years. Initially located here Epiphany Monastery, which ceased to exist in 1680. We have survived miraculous icons.
Assumption Monastery.
To date, almost Assumption Monasterypreserved, but it still is a mandatory part of the tourism program. Of the buildings could be preserved only Trinity church-tomb, the construction of which lasted from 1843 to 1845. In 2004, the monastery was built a small chapel in honor of Alexander Nevsky. Under the chapel is erected artesian well, which reaches a depth of 148 m. The water from this well consecrated, after which it is possible to try all the parishioners.
Shopping malls.
Construction Trading Rows was conducted in the late XVIIIcentury. However, they subsequently burned. Shopping malls were re-built in 1849 and now occupies an entire city block, located at street Living room, 2.
Memorial 400 anniversary of the foundation of the Eagle.
In 1966, a memorial appeared in Orelquatercentenary founding of the city. The basis of the composition became a vertical obelisk made of granite. This obelisk engraved date, became momentous in the history of the Eagle. At the foot bricked an offspring.
Square "Noble Nest".
"Noble Nest" is a square,Located on the left bank Orlik. According to legend, in this place it was located the manor, after whom Turgenev called his story. At the edge of the park is located Turgenevskaya gazebo, next to her - an observation deck and a bust of the great writer.
Eagle - small but interesting city, where you can relax!
Tour Photos Orel