Excursions in Ryazan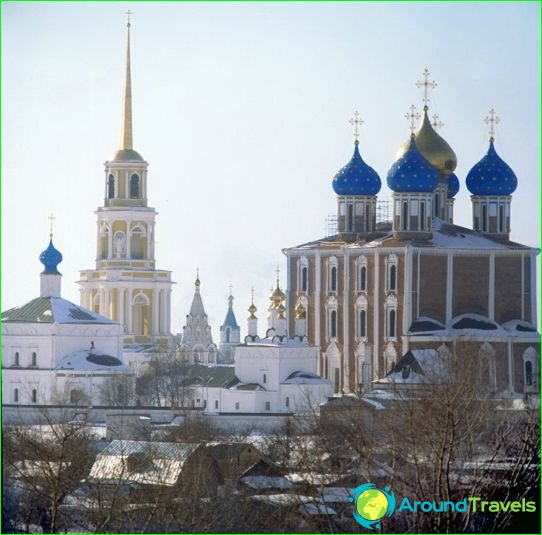 Ryazan - an ancient Russian city with a history,stretching back many centuries. The city was for centuries the shield southeast Russia. Nowadays Ryazan - the regional center, which is included in the list of the thirty largest Russian cities. Almost untouched nature, glorious history and a good climate contribute holding Ryazan excursions at any time of the year. In the city everyone will find something to see. Local Church - the place of Christian pilgrimage, and frequent visits of foreigners.
The most famous place Ryazan
All sightseeing tours in Ryazan begin with the Kremlin - a unique complex with church and civic buildings XV-XIX centuries. On the territory of the Kremlin has many monuments:
Cathedral of the Assumption. The figure of the temple is not repeated every detail. This structure was built without a single drawing, therefore, it is truly unique. The temple has a multi-tiered carved iconostasis and the majestic bell tower with an observation deck.
Oleg Palace. It is an architectural monument of XVII-XVIII centuries. and, indeed, the greatest building of the Kremlin. Palace supposedly built on the site of the Prince's court in the XVI century. The building has beautiful colored trim, gables and baroque Terem window.
Archangel Cathedral - the oldest building XV - XVII centuries. This temple's cross and single-headed, he built on four pillars.
Christ Cathedral - the first stone at the time of the Kremlin building. In the Diocese of Ryazan, he is the main temple. Cathedral inside the richly decorated and has an unrivaled carved iconostasis.
All these structures are combined in a museum-reserve "Ryazan Kremlin".
Ryazan has many different museums: Museum-Estate of Academician Pavlov, a museum of military equipment and airborne troops, an art museum, etc.
The city center is decorated with a monument to St. George, and not far from the Kremlin towers Prince Oleg of Ryazan.
In addition, you can visit the show in one of thetheaters or go to neighboring towns on Esenin places. And you can just walk around the city, admiring the churches and mansions, monuments and wonderful nature, which each give inspiration.
In Ryazan, in addition to historical buildings, you can find various shops, boutiques, pubs, cafés and restaurants - also favorite places for tourists.
Photo excursions in Ryazan