Excursions to Sergiev Posad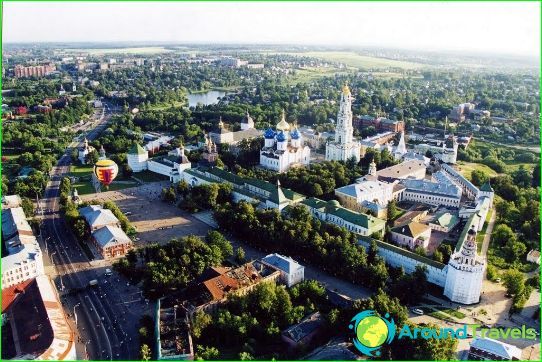 Sergiev Posad - an ancient city locatednear Moscow. Many residents of the capital and other cities of Russia seeking to visit the best sightseeing in Sergiyev Posad to see the ancient architecture and enjoy the spirit of antiquity.
The famous Sergiyev Posad?
The main attraction is theTrinity-Sergius Lavra, which has allowed to consolidate the title of Sergiev Posad Russian Orthodox capital. However, not only this attraction deserves the attention of tourists. Sightseeing tours in Sergiev Posad allow us to understand, for what should be a walk the streets and which buildings need to pay attention, so they are often the initial stage of a close acquaintance with a small Russian town.
The most famous attractions of Sergiev Posad
Trinity-Sergius Lavra.
Trinity-Sergius Lavra attracts many tourists. On the territory of the monastery complex is located more than fifty objects that represent different eras. It is mandatory to pay attention to the horizontal iconostasis of the XV century, set in the Holy Trinity Cathedral. The iconostasis includes more than 40 icons. In addition, attention should be paid Refectory Church, the bell tower with five storeys and the largest bell in Russia, built in Baroque style, the temple tent Savvatii, hospital wards. The most valuable contributions, books, icons of the Lavra monastery meeting kept in the sacristy. It should be noted that the largest Russian Lavra Monastery. Besides, on the territory of the monastery complex located Theological Seminary and the Moscow Theological Academy. If you wish to visit the abbey, whose history began in the XIV century, you must comply with the rules. Remember that the entrance to the monastery in T-shirts, short skirts, shorts, dresses public is strictly forbidden. It is desirable that the woman had a handkerchief on his head. Every traveler should remember that Laura is an active monastery.
Historical and Art Museum-Reserve.
This museum center attracts wealthyexposure. The collection contains more than 120 thousand exhibits, notably the icons, medieval manuscripts, early printed books, church utensils, gold and silver, works of drawing, painting and other art forms. Museum Center can be visited from ten o'clock in the morning until five o'clock in the evening. Weekend days: Monday and the last day of each month.
During the tour you can visit the Bloc and Vvedensky Church, Chapel Pyatnitsky well (XVI century.) (XVII -. XVIII art), Museum of toys.
Photo Tour of Sergiev Posad