Excursions in Great Ustyug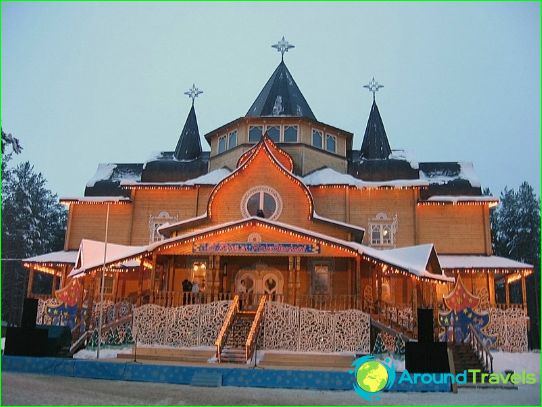 Great Ustyug - this is one of the oldestcities located in the north of Russia. In this city, in its original form preserved beautiful temples, monasteries and merchants' houses. It is best to come here in the winter, then you will appreciate the tour in the Great Ustyug.
Holiday and accommodation in Velikiy Ustyug on New Year's holidays
Going on vacation in the eve of the Great UstyugNew Year, it is necessary to take care about where you stay, since all the hotels are crowded during this period. You can also stay in comfortable cottages, which are located in the birthplace of Santa Claus.
In the city a lot of restaurants, bars and cafes,where you can relax from the entertainment and excursions. A small cafe located on the Soviet Avenue, offers tourists try delicious cakes and liqueurs. In memory of the stay in this wonderful place you can bring a variety of souvenirs. In great demand among tourists are the following gifts:
Silver articles, which produces plant "Severnaya Chern".
Products brush factory.
Souvenirs with the image of Santa Claus.
Linen products.
Excursions in Great Ustyug
Sightseeing tours in the Great Ustyug involve screening of various temples and churches, buildings, monuments of culture and history.
Major attractions that you must see while on holiday in this beautiful Russian city:
Soul Great Ustyug is Cathedral Court. The Cathedral Court contains all the unique objects of antiquity, such as the Church of the Metropolitan of Moscow, Epiphany, Alexis; Cathedral of the Assumption of the Blessed Virgin Mary, St. Procopius the Righteous, the Righteous St. John and many others.
One of the most unique attractionscity ​​- a monument rounders. This unique monument of great interest to tourists, but also attracts couples who celebrate the so-called "lapotnuyu" wedding.
Another architectural complex, after the Catholic's Court is Michael the Archangel monastery. In the heart of the monastery is the huge bell tower and the cathedral. Not far from them is the Church of the Entry and refectory.
Ascension Church - a church, which was built of stone still in the middle of the XVII century. This is the most beautiful church in Veliky Ustyug.
With children in the Great Ustyug is better to come toChristmas and New Year holidays. Having visited the homeland of Santa Claus, you and your kids dive into the world of magic and miracles, will plunge into the atmosphere of childhood and fairy tales. Relax in the Great Ustyug will bring you a good mood and positive emotions!
Photo excursions in Great Ustyug