Viewpoints Kostroma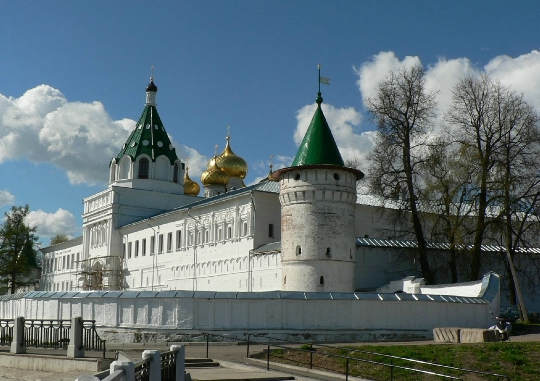 Tourists who decide to make a climb to the observationKostroma area, with another angle to look at the fire tower (monument of the Classical period, decorated with columns, pediment and portico), Church of the Resurrection in the Grove, Ipatievsky monastery, Borshchov house and other facilities.
Arbour Ostrovsky
Because of its location (gazebo with 7 columns towering over the river), it offers the best view of the river Volga (scenic landscapes open in front of you).
How to get there? On the taxi number 4 should reach the stop "Mountain Street" (address: 1 May).
The observation deck at the Central Park
From this observation deck guests will be ableadmire the architectural landmarks, the Volga and the marina. In addition, the park - a great place of rest (in the summer pleases guests leisure activities with the participation of artists), where you can find: walking paths; Lenin monument; slides and children's carousel; tennis courts.
Address: Tchaikovsky street 4a.
The observation deck on the roof of the hotel "Volga"
The complex (here you can enjoy Russian, Japaneseand Mediterranean cuisine; there is a grill menu) has a restaurant and a club with 250 seats, a summer terrace for 150 people on the roof (it is often used for photo shoots and weddings) - hence offers the opportunity to admire the panorama of the Volga and the Kostroma. Important: Friday-Saturday restaurant is open until 03:00, Sunday - until midnight, and on the other days - to 01:00.
How to get there? It offers travelers - a shuttle bus number 89 and 4. Address: Street Youth, 1; hotel complex "Volga"; Website: www.volgaclub.com
Other features inspection Kostroma top
It is worth noting that tourists should take a ride on the Kostroma highway bridge over a length of 1200 m, to admire the panorama of the seen.
See the Volga and Kostroma with herattractions and landscapes from the bird's eye (the height - a few hundred meters) can be another way - it needs to make a flight on a hang glider (flight duration - 10 minutes; approximate cost - 1500 rubles, photo and video - 500 rubles).
You are going to go to Kostroma? You may be asked to stay in an eco-hotel "Romanov Les" (located nearby helipad - from cottages it separated the forest strip, thereby providing a good sound barrier). Here you can take a helicopter ride, taking advantage of one of the paved trails. One of them - "Heliport Moscow" - Romanov Les. The flight, during which will be able to admire the beauty of Kostroma, takes 1 hour 40 minutes (EurocopterAS // Bell 407) - 2 hours (RobinsonR44).
Photo