Viewpoints Lipetsk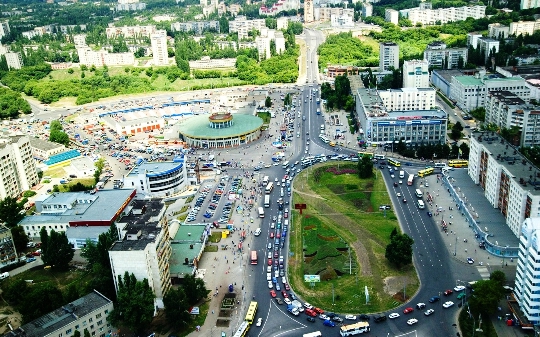 Slowly walking through the city, the travelersit is recommended to pay attention to the observation deck of Lipetsk - they will take a fresh look at the Ancient Church of the Assumption (built - style Russian baroque architecture faces on the northeast axis - the south-west), Cathedral of Christ (an architectural monument of the 18th century, the bell tower height with spire - 60 meters, erected in gratitude for the discovery of mineral springs in 1700), a monument to Peter the Great (his height - 5,5 m), light and music fountain, house-museum of Plekhanov (the memorial area - 0.32 ha).
The observation deck on the street Lipovskaya
This place is the best reviewLipetsk area is popular among tourists because of landscaped area, where there is a lot of greenery. In addition, it offers a beautiful view of the city, for which here and rushing crowds.
How to get there? Travelers should take advantage of the public transport services - they will approach: trolley number 7 or 9; shuttle bus number 300, 306, 325, 347, 359, 348, 234, 322, 325; Buses number 22, 24, 11, 24a. Well, you need to get out at the stop "Bykhanov garden."
Panoramic restaurant "Sky Lounge"
Guests of the food places, which canvisit from noon to midnight, invited to choose their favorite dishes from the menu of European, Thai, Russian and Japanese cuisines as well as enjoy the beauty of Lipetsk, opening panoramic windows (8 floor hotel "Laguna").
How to get there? From the train / railway station by bus number 17 or a taxi number 356 and 317; from the bus station by taxi number 351, 308, 353, or bus number 27, 30, 25; from the airport it's best to get a taxi. Address: Mira area, 1d.
Ferris wheel in Victory Park
Take a ride on the Ferris wheel (the costticket - 120 rubles) and enjoy a booth this attraction local beauty, travelers are advised to "test" for about 20 rides, walk along the park alleys, considering growing here bushes and trees (40 species), to visit under the open-air military equipment exhibition the Great Patriotic war (you'll see the big guns), as well as to take part in mass celebrations, often satisfied in the warm season (on holidays Lipetsk residents and visitors delight fireworks show), "ignite" in the summer discotheque, a game of billiards.
Address: Avenue of the 60th anniversary of the USSR, possession 36.
Ballooning
Want to take a ride on a hot air balloon,considering the local attractions with height? You can do this by paying for the service of about 8,000 rubles (going up to 8 people), but if you want you can use the offer for lovers (in this case, the flight costs around 12,500 rubles).
Photo