Viewpoints Pskov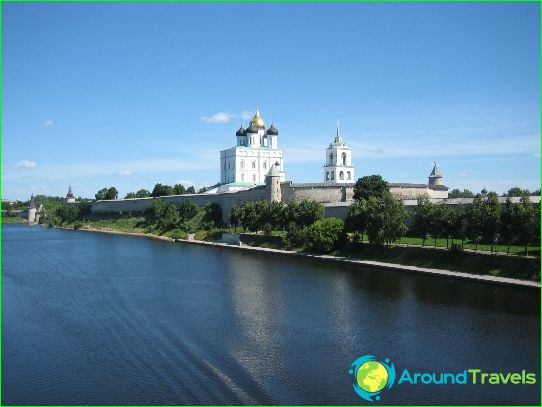 The list of your affairs on your holiday includes the rise to the observation deck of Pskov? You will be able to look at a different angle Snetogorsky monastery Gremyachy tower, House of Menshikov and other objects.
The observation deck on Gorky Street
Find it will be possible at the beginning of the street - visitors come here to admire the Kremlin and Trinity Cathedral.
Vlasievskaya tower Pskov Kremlin
The tower has one of the best reviewsites (visit costs about 50 rubles) - it offers the visitors a panorama of the Great River, Olginsky bridge Mirozhsky monastery, and even here you can see the house on Prospect Enthusiasts, monuments in neighborhoods and Zapskove Zavelich'e.
How to get there? It offers travelers - bus number 51 and 51A, and bus number 25, 30, 11, 18, 1, 7, 22.
Olginskaya chapel
As the snow-white chapel is located on theobservation deck (arranged by the river), enclosed by perimeter fencing lattice (where lovers often locks hang a sign of his loyalty and love), there will be able to admire the Great River and other attractions Pskov.
Address: Quay Olginskaya 4A.
Panoramic dining options
Restaurant "Frigate": he pleases visitors Mediterranean cuisine and views from the windows overlooking the river and the Great Mirozhsky monastery (open from noon to 01:00). It is worth noting that in addition to the summer outdoor terrace, guests will find here also a billiards room (for a maximum of 20 people). Address: Street Governors Shumsky, 9.
Cafe "Espresso Bar": Window places, famous European cuisine, open to visitors views of some part of Pskov, in particular on the October Square. Address: Sovetskaya, 13 (Central Department Store, 3rd floor).
Pskov-Pechersky Monastery
Since its observation deck visitors will be able toadmire the Assumption cave church and picturesque surroundings. Useful information: area open to the public from mid-April to mid-November (11: 00-18: 00); Monday and Tuesday - days off; price - 50 rubles / conventional 30 rubles / discount ticket (he acquired pensioners, schoolchildren and students).
Address: Street International, 5 (drive will be able to take the bus number 207).
Pushkin Park
Park - a place that allows guests:
to participate in the ongoing cultural events such as discos, competitive programs, children's matinees;
spend time in the clubs of interest ( "Play an accordion", "Club of interesting meetings");
a ride on the many attractions, including a 32-meter Ferris Wheel and enjoy the beauty of Pskov ($ 100 / adult, 50 rubles / children under 14 years).
Address: Oktyabrsky Prospect, 34.
Photo