Viewpoints Omsk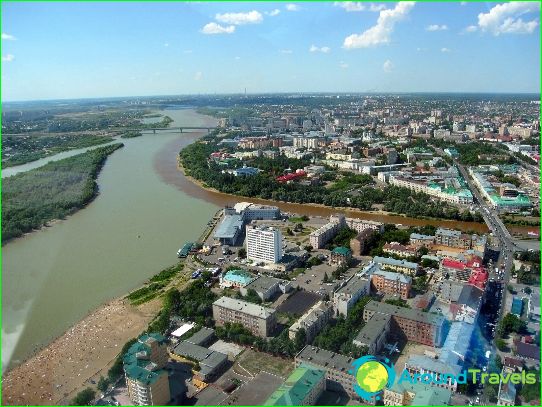 The plan included the rise of your holiday on the lookoutsite Omsk? You will be pleasantly surprised by the opportunity to admire an unusual angle Christ Cathedral, apart merchant Batiushkov, Tarski gates and other objects.
Bridges in Omsk
Jubilee Bridge: This pedestrian-automobile bridge (on holidays it becomes a completely pedestrian), connecting the coast of the Om River (length - 80 m), allows you wishing to enjoy the vistas, not only the historical center of Omsk, but also on the river port.Adres: Lenin street, 20.
Bridge named after the 60th anniversary of the victory: it spans the Irtysh, and admire the scenery opening can not only passing on the bridge - the bridge pedestrian crossings are equipped with lookout points. How to get there? The bridge is located between metro stations "Pushkin Library" and "Nina".
Leningrad bridge: notable for the fact that here will be able to admire the beauty of the city Omsk and Irtysh river (especially crowded here May 9, when wishing to come to see the fireworks). Address: Postal street, 33/9.
The observation deck on the street Valikhanova
It will be possible to admire the Irtysh, and if necessary, to go down to the river bank.
Lookout Tower in the "Bird's harbor"
On the observation deck of the tower "Lighthouse" (its height -more than 13 m; gruzopodemnost- 600 kg platform able to accommodate 5-6 people) will be able to climb the spiral metal staircase to see the neighborhood of natural park and its inhabitants (in the lakes inhabited by waterfowl; colonies of migratory birds stop in the park).
Address: Street Yenisei, 1 to 2.
Restaurant "Panorama"
Restaurant treats visitors to the author's kitchen(Duet European and pan-Asian cuisines) from the chef A. Khripunova. It enjoys the best views of the central part of business and Omsk (Friday-Saturday open until 06:00, and on other days - until 01:00).
Address: Gagarina Street, 14; Website: www.panorama.bar
Park named after the 30th anniversary of the Komsomol
The park offers a ride on anytwo rides "Ferris wheel", but the most interesting is the new 35-meter wheel (10 out of 20 booths closed, which implies a year-round skating), which are nice to look Omsk beauty (on the new attraction ticket will cost $ 100, while the old one, which 7 m below - 70 rubles).
How to get there? You can get there by bus number 95, 64, 8, 44, and other (address: Mayakovsky, 96).
Adventureland "Soviet"
Another observation platform can be found in the park of culture and recreation "Soviet" (address: Andrianova, 3) - hence the visible landmarks districts of the Left Bank, the Irtysh and the bridge across the river.
Photo