Shopping in Moscow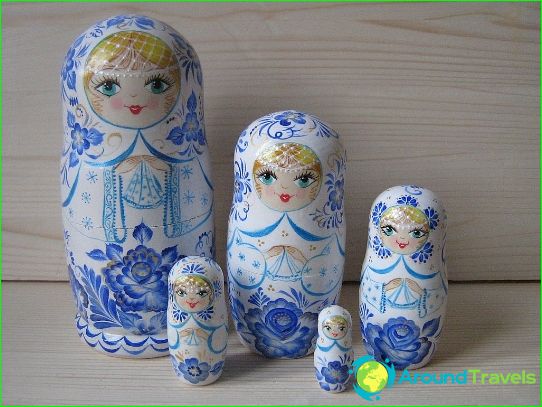 What to bring as a gift from Moscow to the family and friendsfriends? You can find out the opinion of the relatives and friends, and it is possible to show imagination and surprise of all surprises. And, of course, brought from the Russian capital a lot of impressions, photographs, handbills, playbills, posters, posters, refrigerator magnets, finally.
Earlier, in Soviet times, we went to the capital offashion rags and quality products. And now, all of this can be found in Moscow in large quantities. And not only in high-end boutiques on Kuznetsky Most, where the prices are more like a phone number, but also in large chain stores such as Mega, where the prices are reasonable. There is still great demand for local sausage factory. Enjoy native bars Klin smoked sausage or Mikoyan plants and fragrant Russian cheese. Men will be happy vodka "Russian Standard" in the original packaging. Women want products plant "Abrau-Durso" or "Massandra". Although the wines of well-known companies to buy cheaper and more reliable at the place of production - in the Crimea. Undoubtedly, as a souvenir welcome smoked meat and caviar.
What to buy in Moscow favorite sweet tooth -You do not need to invent. Various products of the Moscow confectionery factory "Rot Front", "Red October", "Korkunoff" and others - there in retail stores, as well as any metropolitan supermarket. Candy factory "Slavyanka", halva in chocolate candy "Sharmel" factory "Udarnitsa" cranberry in sugar, Belevsky candy in the gift package, roasted nuts in the chocolate souffle, fruit jelly - those sweet souvenirs florists.
It is necessary to recall the traditional Moscowsouvenirs with the demand from foreign friends, which can be purchased in the Izmailovo Vernissage and pavilions OCE. There is a huge choice - from the attributes form the Soviet Army, soldiers 'and officers' caps hats, buckles and straps to electrical painted samovars and pennants "Drummer of communist labor." Here you can also find products from birch bark, unique forged products, a variety of jewelry made of gold, silver, precious and semi-precious stones. Meet in the way of hunting shops - take a look. You will find affordable gifts - lighters, cigarette cases, folding knives, corkscrews, water bottles and stacks in the original design. Also painted in the style of Khokhloma samovars and crockery painted in gzhel style in the numerous souvenir shops, you can buy a Russian balalaika, Zhostov trays in all shapes and sizes, or, for example, an old Russian headdress "kokoshnik", decorated with beads and gold sewing, whistles in the form of birds , Pavloposadskiye scarves and more.
Virtual tour of Moscow
Number of Photos in Moscow