Where to rest in Russia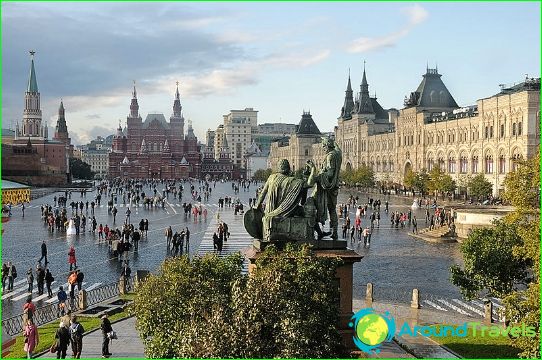 Moscow
Russia is diverse climatic andnatural areas. In every corner of the country the traveler can meet with local, peculiar customs and traditions. The tourist, who decided to spend their vacation here, it is difficult to decide where to rest in Russia.
Tour operators offer holidays to suit all tastes: sightseeing, beach, spa and ski. Many resorts are located near the main attractions of the country.
Family holiday
For families with children bestThe Black Sea coast. For example, you can go to Anapa. The city is known as the children's resort. The mild climate combined with beautiful nature and golden sandy beaches. Hotels and resorts in Anapa allow families to stay comfortably, and children will appreciate the water parks, amusement parks, traveling circus, and the exhibition "World of Animals".
Wellness vacation
If you want to improve your health, you canto go to a sanatorium. A variety of proposals just amazing. Recreation Centers in every region. But the most famous - it resorts of Caucasian Mineral Waters and Resorts of Karelia, the Leningrad and Moscow regions. There is every possibility not only heal your body while undergoing treatment, and use the services of a beauty salon, and spa services.
Sightseeing holidays
Recently, excursions in Russia are becoming very popular. Among the most sought-after travel destinations include Moscow, St. Petersburg and the Golden Ring cities.
Moscow among cities withrich reserves of attractions. Architectural and historical monuments, the embankments and pedestrian streets, museums and galleries attract the attention of tourists and Muscovites themselves.
Cultural capital of Russia is consideredSt. Petersburg. The city can be visited over the years. Kazan Cathedral, Mariinsky Theatre, St. Isaac's Cathedral, Peterhof, Hermitage, Nevsky Prospect, Alexander Nevsky Lavra - only a small part of the attractions that will surprise the city of Petra.
Golden Ring of Russia is represented by the ancientRussian cities which are famous handicrafts. There are unique monuments of culture and history of the country. Tours include sightseeing trips to Rostov, Pereslavl, Yaroslavl, Sergiev Posad, Kostroma, Ivanovo, Vladimir and Suzdal.
Russia, Karelia (recreation and tourism)
Photos leisure in Russia
Moscow
St. Petersburg
Peterhof
Yaroslavl
Sochi
Elbrus
Kizhi
Solovetsky monastery