Saint Martin Island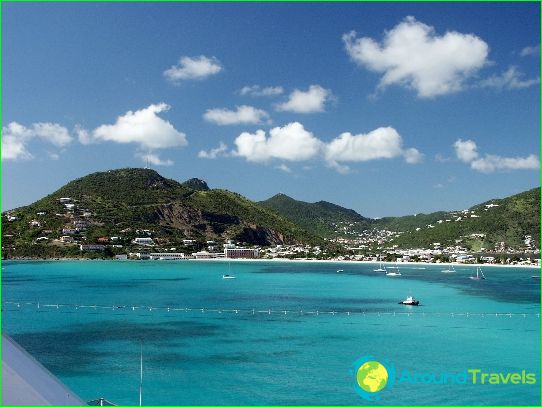 The Caribbean is the island of Saint Martin -St. Martin. It is of volcanic origin and is one of the Windward Islands as a part of the Lesser Antilles archipelago. Its eastern coast is washed by the Atlantic Ocean, and the western - the Caribbean Sea. Saint-Martin is 12 km from Anguilla Island and 20 km from the island of Saint Barthelemy. Among the inhabited islands in the world, he has a very small area. The island of Saint Martin is under the authority of two countries: France and the Netherlands. The French member of its northern part. Southern land - a self-governing territory, which is part of the Kingdom of the Netherlands.
relief Features
Saint Martin Island has rocky coasts andundulating surface. Its shape resembles a triangle. The area of ​​this land area is 87 square meters. km. In the south and north are convenient bays. Inside the lagoon channels are connected with the sea. Near the island there are many reefs, rocks and islets. The largest are Pinet and Tintamer. The mountainous terrain is combined with excellent beaches, which are covered with white sand.
a brief description of
Even before the opening of the island it was inhabited by the Arawak. Saint Martin Island are designated as the "Island of Women." In 1493 this small piece of land was discovered by Christopher Columbus. Hispanics in those years of little interest to the Caribbean island, so the first St. Martin began to settle in Dutch and French. Together, these countries rebuffed Spain, who tried to capture the island. The agreement signed between the Netherlands and France in 1648, was the confirmation of the official division of Saint-Martin into two separate territories.
Today, the number of the island's population exceeds74 thousand people. Among the locals the most mulattos and blacks, who are descendants of slaves from Africa. In the southern part of Saint-Martin official language is Dutch. Residents of the northern region speak French. Also on the island is English and Spanish. Centre of the Netherlands possessions - Philipsburg city, the center of the French possessions - Marigot. Saint Martin Island - this is the offshore zone, where the financial sector is developed. In addition, there is a lot of attention is paid to the field of tourism.
How to get to Saint-Martin
The largest airport of the island and around the CaribbeanRegion - item name Princess Juliana. It is an international airport that receives flights from America and Europe. Flights from other countries is also taking an airport located close to Marigot. City of Philipsburg and Marigot are located near the bays, where passenger ships come. Saint-Martin is associated with the island of Anguilla ferry.
Photos of the island of Saint-Martin