Airports in Saudi Arabia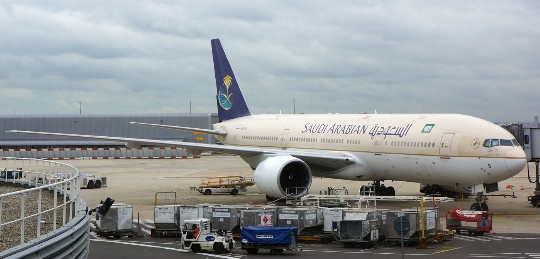 One of the largest states in Asia are located,mainly in the territory of the desert, but because the air communication between the regions of the country - the most popular. Of the dozens of airports in Saudi Arabia, only a few are willing to take the flights from abroad and from Russia direct flights to the country in regular schedules of air carriers not. Getting from Moscow to Dammam, Jeddah and Medina can with changes in Kuwait, Amsterdam, Dubai and Frankfurt. Travel time can take about 10 hours, taking into account connections.
International airports in Saudi Arabia
Capital Airport Riyadh King Khalid - not only accepts international flights:
The largest air gateway of the country is to Dammam King Fahd. The city where the airport is located, - a major international port. Details on the website - www.pca.gov.sa.
King Abdulaziz Airport in Jeddah - the chief ofduring the Hajj. Here land aircraft with pilgrims going to Mecca and terminals can accommodate up to 80 thousand. Man at the same time. Seasonal flights to Jeddah airlines make the absolute most of the countries, whose population is Muslim, including the Russian UTair Kazan. During Hajj land here every day hundreds of boards, including airplanes from Pakistan, Turkey, Tunisia, Yemen, Morocco, Oman, and dozens of other countries.
Air gates of the Medina itself is not able toreceive a huge number of pilgrims, and therefore the list of airlines flying here, much more modest. Regularly Medina fly Emirates, Oman Air, Turkish Airlines, Etihad Airways, but during the Hajj they are joined by several carriers. The plans - the reconstruction of the airport and its expansion.
metropolitan area
35 km separate from the capital of Saudi ArabiaKing Khalid Airport. The four passenger terminals, parking for 11 thousand vehicles, two parallel "Vzletka", each of which has a length of 4260 meters -. Building is amazing in its scope.
Terminal 1 is used by the airlines, whichnot part of the SkyTeam alliance. Terminal 2, on the other hand, takes the side of these local carriers and Saudia. In Terminal 3 aircrafts land inland areas. The terminals are connected by passages and offer passengers all the modern infrastructure - shops Duty Free, restaurants, hotels, banks, currency exchange, medical clinic, recreation rooms for VIP-persons, and car rental.
world record holder value
Airport Saudi Arabia, 20 kilometers northwest of Dammam is listed in the Guinness Book of Records as the largest in the world in the occupied territory - an area larger than that of Bahrain.
Three of the six terminals are engaged in servicing passengers arriving from cities in Europe, Asia and the Middle East.
Transfer to the city is convenient by taxi or rental car, which can be taken in the arrivals area rental.
Photo