Tourism in Saudi Arabia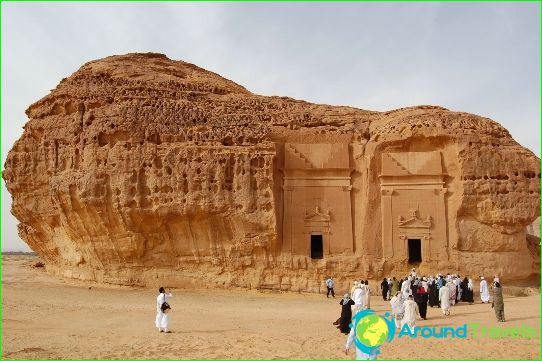 Representatives of travel agencies of the planet is acautiously looking toward this country, without risking offer its customers such too exotic destinations. Saudi Arabia - is a very conservative country, its citizens live in the strictest compliance with local laws and Sharia.
All liberties, entertainment and a departure from the rulesIt is stopped at the time, so it's hard to even talk about that tourism in Saudi Arabia, has good prospects. And this despite the fact that the authorities finally decided to take some steps to develop such profitable areas of the economy.
Visa - instantly
One of the first steps towards the allegedexpansion of tourism is the introduction of a simplified scheme of a visa authorizing entry into the country. At the first stage it is planned that a more simple and quick visa will apply to citizens of 65 countries. Perhaps the subsequent list is expanded.
Before this innovation right to visit SaudiArabia as tourists can enjoy the only neighbors, including the United Arab Emirates, Kuwait, Qatar, Bahrain and Oman. The aim pursued by the authorities by introducing a simplified procedure for issuing visas, - the completion of the public purse, as the price of oil, the main source of income, declining annually.
Beach with exotic oriental aroma
Another important step in the development of tourism inSaudi Arabia will be the project, according to which the east coast it will turn into a beach area. It is expected to invest in the project and construction of nearly $ 9 billion, some of which - local media, the second half - a means of foreign investors.
This project has good prospects, because,except beach pastime, there is the possibility of visiting Qatar and Bahrain, adjacent states. Also in the holiday program can be turned into a desert trip, familiarity with the rich heritage of the ancient inhabitants of the Arabian Peninsula.
It is understood that the tour operators of the world with skepticismrefer to the plans for the construction of the beach area in the country, living under strict Sharia law. And proof of this is a luxury hotel built not so long ago, in which there is a "women's floor", inaccessible to manly half of humanity. It is difficult to imagine what might look like a beach in the country, what are the requirements to beachwear and swimwear will be nominated.
Photo