Airports Serbia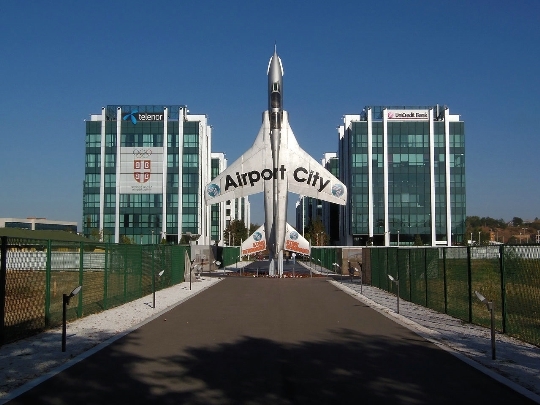 A small Balkan republic of Serbia hasa pretty impressive list of airports, including interest to tourists are only three - the capital, Pristina and Nis. Russian tourists are increasingly choosing this country to organize a pleasant stay in the lap of nature surrounded by the Balkan architectural sights and the capital of Serbia because the airport is becoming a popular destination for them.
Direct flights to Belgrade from Moscow perform "Aeroflot" and Air Serbia, spending on the road about 2.5 hours.
International airports Serbia
Foreign flights take three Serbian airport:
The capital Belgrade is named after Nikola Tesla and is based 18 kilometers west of the city. Site air harbor - www.beg.aero.
Serbia's Nis Airport is named in honor of Constantine the Great, and it is separated from the city of 4 km. On schedule and its services can be found at the airport - www.nis-airport.com.
Air Gate service Pristina RepublicKosovo, and the city where the airport Adem Jashari, is the capital of the partially recognized republic. Status airport supplies to Serbia in connection with this rather controversial, but it still included in the lists of air gates of this particular state. To view the object's features can work online - www.airportpristina.com.
metropolitan area
Airport Nikola Tesla - the busiest amongall in the former Yugoslavia. It is based national airline Air Serbia country, regular flights to many countries in Europe and the Middle East, including - in Russia.
Two airport terminal linked by a common corridor andeach responsible for its direction. Terminal 1 - the oldest and today it takes domestic flights and aircraft engaged on charter flights. Here are based airline-loukostery. In Terminal 2, passengers are served by well-known international airlines - up to 5 million a year.. Hence fly aircraft in Athens and Rome, Vienna and Geneva, Abu Dhabi and Dubai, Frankfurt and Istanbul.
In the summer season, the airport receives Serbiaadditional flights and sends passengers in Split, Stuttgart, Dubrovnik, Larnaca, Pula, Varna and many other resorts in Europe. Summer in Terminal 2 land charters Yamal Airlines from Moscow's Domodedovo airport.
Transfer to the city from the airport of the capital of Serbiaperfectly organized by buses. A1 line to be square. Slavia and cars Route 72 - in Green Venac. The journey time is about half an hour, and the rate of movement - 20 minutes.
Spare airfields
Nis Airport takes not much internationalflights - only from Basel and Malmo performed loukosterov Wizz Air. But for Russian tourists it is interesting that in the summer season in his field land charters from Domodedovo.
Air gates of Kosovo in Pristina boasts a busy schedule. They take planes from many European countries and cities, as well as - with the Middle East and the UAE.
Photo