The traditional cuisine of Serbia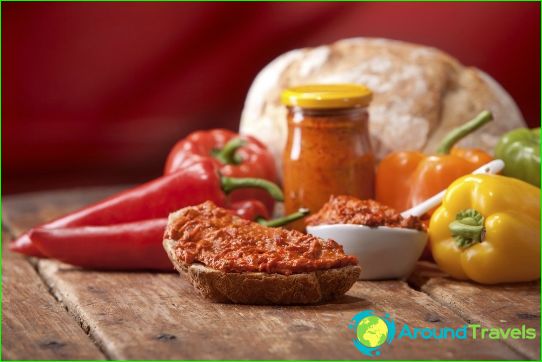 Food in Serbia is characterized by the fact that inlocal restaurants, guests are served exclusively organic food without artificial additives and genetically modified products (portions ordered dishes, as a rule, large).
As for the cost of meals, in Serbia, they are quite low compared with other European countries.
Food in Serbia
On the Serbian cuisine was influenced by the culinary traditions of the Mediterranean and Turkey. The diet consists of Serbs from fish, seafood, meat, legumes, vegetables, dairy products, flour products.
Serbia should try pleskavitsa (porkor beef burgers); punjene paprika (stuffed peppers); Schnitzel is karageorgievski; pihtije (aspic, which is based on a duck or pork); pasulj (a dish based on beans, peppers and onions); proja (grain bread with white cheese); paprika (red pepper stew with meat or chicken); chevapchichi (sausages of minced meat); razhnichi (shish kebabs of beef and pork); kastradinu (dried mutton); Haiduk (meat, grilled); zelyanitsu (cheesecake with fresh herbs).
A sweet tooth should eat baklava, pits with apples or cherries, poppy shtrudlyami with nuts, vanilla biscuits, cakes of semolina, a variety of cakes.
Where to eat in Serbia? At your service:
French, Greek, Serbian, Thai, Chinese, Lebanese restaurants;
cafes, snack bars and fast food restaurants.
Drinks in Serbia
Serbs are popular drinks coffee, rakija (local brandy), slivovitz (plum brandy), wine, beer.
Beer lovers can taste in local Serbiangrade - Lav and Jelen, as well as the Montenegrin beer - Niksicko. Wine lovers should try the "Zhupsko", "Lutomer", "Riesling", "Prokupac", "Krstac", "Dolyansko", "Podgorichko Bijelo". In addition, you should pay attention to the prestigious brand of raki - Zuta Osa and Viljamovka.
Gastronomic tour in Serbia
Going in 4-5-day tour to Serbia, you can taste Serbian delicacies, visiting the mountain villages and Serbian cities.
Also, for you to organize a trip to the wine cellars - here you will be offered to taste a variety of wines and snacks (cheese, clotted cream, and meat and fish meals).
And you can go on a wine tour if you wish forSerbia - its program is designed in such a way that your gastronomic route will intersect with the tour: you will not only try the delicious and high-quality Serbian wines and dishes of national cuisine, as well, to see ancient churches, castles and monasteries.
Since the Serbian cuisine can be traced elements of Oriental and European cuisines, it is surely necessary to taste true gourmets.
Photos national Serbian dishes