Holidays Serbia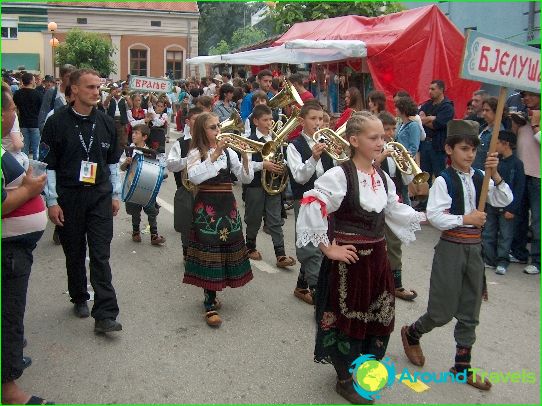 Incredibly beautiful and charming hislandscapes of Serbia is located next door to Romania and Montenegro. Many visitors come to the country to look at the village, located in the mountains, and to breathe clean air bed.
Unfortunately, the tourists have little interest in Serbia, andnothing. Fields of vineyards, harboring green plains, bewitching mystery mountain fortress. But you never know beautiful spots hidden in the vast fertile Serbia. But not only this country can make you happy, holidays Serbia also amazing and unique.
ƃ Cathedral
In Loznica holiday celebrated annually ƃCathedral. Celebration continues for seven days. Triumph is one of the oldest festivals of the country, playing a critical cultural development of the country. Dedicated is the great Vuk Karadzic, the former initiator and active member of the Vienna literary agreement on the unity of Serbo-Croatian language.
Music Festival in Novi Sad
Since the two-thousand years in the territoryPetrovaradin Fortress in Novi Sad is arranged Music Festival, which lasts for four days. The event is part of the most ambitious musical shows throughout southeastern Europe. The holiday was even awarded a prize as the best festival of the year 2007. On the music venues act as hip-hop and rock artists, as well as club, and "electronic" band.
Infants
Holiday with a rather unusual namecelebrated annually on March 9th. In Serbia, the celebration begins with cleaning the house and farmstead. Mistress simply burn the accumulated and have become unnecessary things, conducting a kind of rite of purification. Household offer to jump over the fire three times, also purged of troubles of the past year.
From that day, it is already possible to start planting potatoes,and what many are doing. Young people in their own good time, arranging songs and merrymaking. And in the morning, at sunrise begin to gather willow. Glad is a holiday for the kids. Wherever they looked, all children waiting for a treat in the form of honey biscuits.
Biljana Petak
Biljana Petak - another ancient holiday. We have it on the last Friday preceding the day of St. George. Since ancient times happened that the girls and women of this day are sent to the forest for harvesting of medicinal plants. This adult women share experiences with looking young woman showing useful herbs and place their collection.
There is a curious tradition of Serbia. Before this holiday housewives forbidden to touch fowl, and even more to make it to the house. It is believed that in this case be carried chickens worse.
Photo