Serbian Railways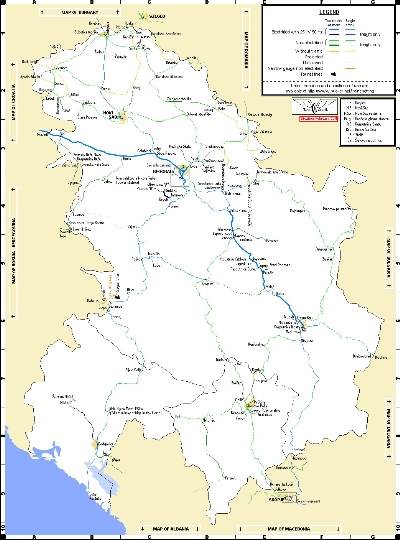 Serbian Railways connect all villagesitems that State. Train operating in the country since 1854. The length of the railroads exceeds 4090 km. Currently, the main mode of transport in Serbia is considered to be the railway. It is served by a national organization Zheleznitsa Srbije. The site of the company - zeleznicesrbije.com, you can read detailed information about trains and routes.
Main routes
Trains in the country are affordable and convenientvehicle. F / tickets are cheaper than tickets for buses. The main route goes from Subotica to Presevo, from the northwest to the southeast. This line passes through Belgrade, Novi Sad, Nis and other cities. Central Railway / train station is located in Belgrade. It is a dead end, because there are ways to converge different routes. Belgrade railway station connects the Serbian capital with all the cities of the country, as well as European cities. Serbia supports the rail connection with Hungary, Croatia, Bosnia and Herzegovina, Macedonia, Bulgaria, Montenegro and Romania. Get on the train with transfers possible in Italy, Turkey, Switzerland and other countries.
After Serbia passes Transport Corridor Europe. Therefore, the country's network of railways is very well developed. Trains make numerous day and night flights due to which passengers can get to any part of Europe. The largest railway junctions are considered transport Subotica, Belgrade and Tine. As the country moved regularly train international importance. Serbia Trains are divided into the following categories: passenger, express, fast, ambulances.
Between Russia and Serbia there is also arail links. Every day on the route Belgrade - Moscow train runs. In the summer season trains Split - Moscow and Bar - Moscow. To get to Serbia from Russia passengers Hungarian transit visa is required. Therefore, many tourists prefer to flight, which does not burden their troubles.
Discounts and benefits for travel
Free travel on trains availablechildren up to 6 years. Children aged 6-14 years receive a 50% discount on space in the 1-2 class trains. There are also group discounts for travel. In Serbia, passengers are offered tickets InterRail Pass for a period of 3 to 8 days. These tickets are only available to foreign tourists. Ticket prices vary depending on the category of the train. Reserve tickets in advance to be on a passing train. Almost there are coupe-smoking passengers in each train Serbian. The number of trains on the railway increases in the summer.
Photo