Kitchen Serbia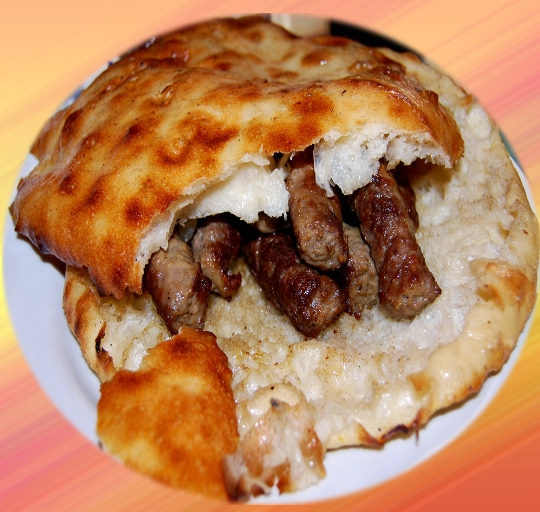 Serbia Kitchen - kitchen, "complicit" in Slavic and gastronomic traditions of the Mediterranean, Turkey, Hungary, Germany, with the result that it has become a distinctive phenomenon.
National cuisine of Serbia
In Serbia, widespread vegetableand meat dishes with spices (paprika, white pepper, cloves, garlic, coriander). Fans of meat dishes will be offered to taste "veshalitsu" (steak with spices), "dzhuvech" (stew of meat, vegetables and rice) and "interfere with meso" (cold cuts, in which there are fried pork chops, liver, sausages and meatballs with onion ), vegetable - vegetable dumplings, stuffed cabbage kohlrabi, stew of beans in Serbian, and the first courses - ciorba (mushroom soup, chicken or yagnyachya chorba). It is necessary to talk about the clotted cream - milk, which skvashivaetsya and add some salt: it is served separately and as a cold appetizer.
Popular Serbian cuisine:
"Kapama" (braised lamb with yogurt, lettuce and onions);
"Razhnichi" (mini-skewers of veal or pork);
"Moussaka" (a dish of tomatoes, eggplant and meat layers);
"Punena tikvitsa" (a dish of pumpkin stuffed with rice and meat);
"Priganitsa" (Serbian donuts);
"Shtrukli" (a dish of nuts and plums, baked in cheese).
Where to try Serbian cuisine?
You are a fan of simple, tasty and inexpensive meal? You will be pleasantly surprised when visiting food establishments in Serbia. If you will relax in the small Serbian cities, know that you will always be there will be treated to regional specialties: in Zlatibor - roast lamb, in Vojvodina - a thick chicken soup, in the Bor District - barbecue of the Danube catfish.
If you choose to dine in the Serbian cuisineauthentic surroundings, you should keep a course on "Kafanov" - the traditional restaurant with delicious food and a cozy atmosphere (live music delight the guests in the form of performances by folk groups). In such places in English can not be reflected menu language, so it is worth pre-acquainted with the names of very popular dishes.
Since smoking in local schools is not prohibited, the non-smoking visitors have to search rooms, designed to accommodate them or at the tables outside.
In Belgrade, you can satisfy your hunger in "Konoba KodGosei Renata "(in this fish restaurant every day prepared river fish, in addition, it offers areas for smokers and nonsmokers, an outdoor terrace, open from March to November, as well as a children's playground) or Kafan"? "(Visitors will find pleskavitsa menu veshalitsu, chevapchichi, beer, brandy, Turkish coffee).
Cooking classes in Serbia
Those interested can visit the Belgrade Internationalmaster-class gastronomy (September) - then they are allowed to taste the sweet and savory dishes, offered to see and take part in creating confectionery sculptures, pieces of fruit and vegetables.
In Serbia, it makes sense to come to the Meat Festival(Leskovac, summer), Days ceps (Kopaonik, September) Gastronomic Festival K Gastro Festival (Kragujevac, November), the Fish Festival (Belgrade, September), Cheese Festival (Belgrade, January).
Photo