Transportation in Belgrade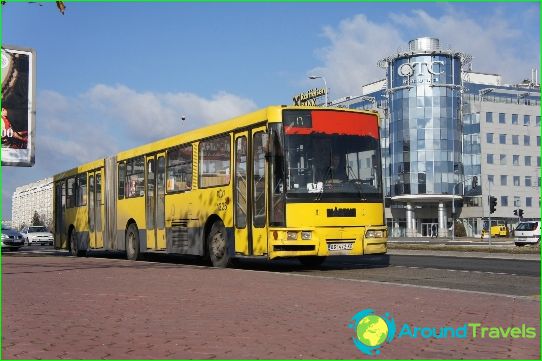 The transport system in Belgrade, especially the development of different, so tourists can mention the convenience of moving around the city.
Buses, trolleybuses, trams
The bus is the most popular form of public transport. Currently, there are 149 routes, which cover almost the entire city. At night (from 24.00 to 04.00) 26 routes operate.
The eastern part of the historic center of Belgrade and served eight trolleybus routes.
Tram routes - 12. In this case, one of them allows you to get in New Belgrade, located on the left bank of the Sava and is unavailable for trolleybuses.
Ticket price depends on the tariff zonebut it can be noted for the benefit of tourists, because the attractions are located in the same area. If you buy a ticket from the driver, you should prepare for significant overpayment. Wanting to save money, you can buy a ticket valid for a day at the newsstand. Remember that composting is mandatory, because otherwise be required to pay a fine.
minibuses
For people who are also provided minibusesknown as the Mini Bus. This form of public transport has a high level of comfort. It should be prepared to ensure that the value is in vans than in buses. Minibuses can be caught just at the bus stop, as in other places they are not allowed to stop. Currently, there are eight routes, marked with the letter E.
trains
It should be noted the possibility of a ride ontrain inside the city and all its suburbs. This transport in Belgrade is intended for patient people who have free time. "Beovoz" - trains the system, which consists of two zones and five branches. Two stations, namely "Karađorđe Park" and "ƃ spomenik", located under the ground. The minimum interval for trains is 15 minutes.
Taxi
are 24 taxi companies in Belgrade. On the roofs of all licensed vehicles are installed just two tablets: TAXI, four-digit number. Each machine is equipped with counters, but if you plan to arrive by taxi to the airport, get ready for a fixed price. Order of the car on the phone allows you to get a 20% discount. A taxi can be beneficial.
Bicycles
For people who seek active wayLife operates bicycle rental, located at Savskogo lake. Some hotels also offer bicycles for rent. Option is advantageous, because there are special discounts every day.
Photo