Skiing in Serbia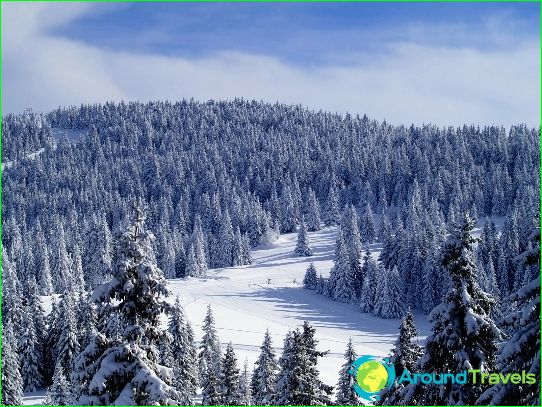 Skiing in Serbia - it is a great opportunity to relax in comfort and European level of service. This combination of cost and quality of services to every guest will enjoy, without exception.
The equipment and lines
The main and the only ski resort of Serbia- Kopaonik. This place is ideal for those who are only taking the first steps on the slopes. Trails are located at an altitude of 1,700 meters, and their total length is almost 60 kilometers. The resort has 23 cable car, among which thirteen and ten ski lifts - chair. They allow you to climb to a height of more than two kilometers and work at nine o'clock every morning. Latest Kopaonik ski lifts take athletes in the area for 16 hours.
The longest trail offersfans of the three and a half kilometers of impeccable comfort slip, and for those who prefer cross-country skiing, 20 kilometers of open trails on the plain perfect. Ski slopes in the Serbian resort is very scenic. They are laid among the tall fir trees and mountains with stunning views of the valley. The length of the longest route is about two kilometers away, and the very short - only 600 meters.
For romantics and owls resort of Kopaonik is ready to ignitelight on one of the slopes and offer night skiing and the kids go up to the start on their own lifts for kids. Incidentally, the ski school in the Serbian resort of Kopaonik - is beyond praise. Its instructors are proficient not only sports, but also teaching methods, and therefore to keep the child in their care is possible with peace of mind. Adult beginners are also given lessons, and the necessary equipment available to rent at good price. Russian-speaking instructors at the ski resort of Serbia with pleasure are engaged with the guests from Russia and former Soviet republics. Value of lift pass that allows you to ride more than twenty slopes of Kopaonik, much lower than in European resorts in Austria or France.
Activities and excursions
Guests of the Serbian ski resortstop in the cozy hotel in the village at the foot of the mountains. The hotels are located a few meters from the ski lifts, but because in the morning do not have to waste time on the road. In the village there are bars and restaurants, shops and club that provides fun and incendiary parties.
The excursion program includes trips toStudenica Monastery, which was founded in the XIII century and is one of the oldest in the country. It protects the fund officially UNESCO cultural heritage, and the monastery murals amaze your subjects and colors.
Photos of Serbia ski resorts