Traditions Serbia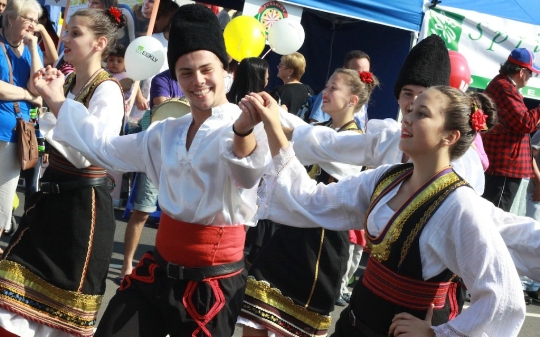 The Serbian people do not share their customs onChurch and people, but because in each local celebration or ritual felt great influence Orthodoxy. Slavic in origin, the Serbs took a lot of neighboring peoples and their traditions can be traced clearly notes the Thracian and Balkan traditions. Once you are there on vacation or on a business trip, every traveler is faced with steadily Serbian tradition and familiarity it is very pleasant and helpful.
Godmother Glory
The most important custom of Serbs - a celebration of Fame. This tradition of Serbia is unique and different, and its meaning is that any family has here its saint. He is revered by all members of families, and is inherited through the father. Marrying a woman honors her husband's glory.
Godmother Glory is not only the family but alsotribal, church, or village, when the saint is venerated all come from, parish or village. It is believed that the tradition of Serbia inherited from ancestors who lived in pre-Christian times, when the lives of the people there were many gods.
The Cross of Glory celebration includes several rites:
On the eve of an important day in the house invited the priest and asked him to bless the home and water. It was her cook the main dish for the holiday table.
At the gala dinner together all the family members and the table will certainly present loaf and kolivo - porridge with raisins, honey and poured boiled in the holy water.
On the morning of the same day the family goes to the temple and partake. During the service, to pray for the health of the living members of the family and for the repose of those who have left this world.
The food should be covered and for guests to take those who are not noted in this day of glory.
Day of the Cross of Glory is celebrated in the village of the world. This is a sacred tree on which is carved a cross.
Eyes to eyes
Greeted with someone, or getting to know the localsalways look into the eyes of his interlocutor. This tradition of Serbia demonstrates pure thoughts and good intentions. In each other's eyes made to look, clinking glasses during feasts.
At acquaintance need to shake hands, and thenthree times to kiss, if you have submitted a relative girlfriend, wife or husband. Entering the shop, cafe or restaurant, be sure to say hello. So it is accepted in the tradition of Serbia and it has a pleasant conversation of your companions.
Photo