Entertainment in Singapore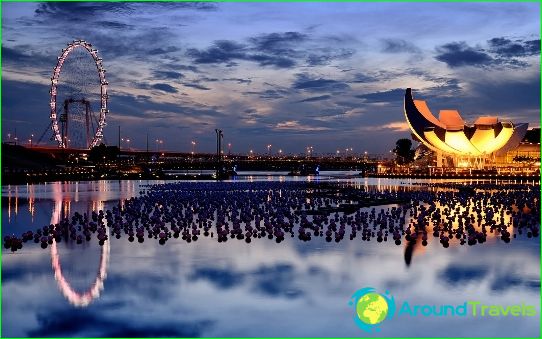 For Singapore stuck several names. Often called "Asian Milan" or "island of skyscrapers", but all of them with amazing accuracy describe this mini-state, located on the equator line. Unusual and Singapore entertainment. For example, many shopaholics happy to part with their savings during the big sales.
Singapore Flyer (ferris wheel)
It was established in 2008 and immediately broke the record world-famous London Eye, its height exceeded by as much as 30 meters.
The fact that you went up to a maximum height of165 meters, to congratulate you on the radio. Surprisingly, in cloudless weather, you can even see the neighboring Indonesia, located in as much as 45 kilometers from the Singapore Flyer.
Underwater World (Sentosa oceanarium)
The aquarium is located on epic proportionsSentosa Island, just a few kilometers from the Singapore. It is worth to go here after visiting the crazy amusement theme park Universal Studio, with its huge roller coaster ride, and Panic Room. Watching a leisurely life of marine life, it is that calm is not a joke get up to mischief nerves.
Night safari
Do you want to get another shot of adrenalinein the midst of landscaped metropolis? Then go to the night safari at Singapore Zoo and try on the image of the legendary Indiana Jones.
Dark night, you can explore the jungle,drove them in a comfortable trailer, accompanied by bored retirees. But to really dive into the world of adventure will only walking tour. In this case, the probability of meeting with the family of tigers or crocodiles rookery. But do not worry too much: Predators walk in fenced enclosures, and lost at the zoo is absolutely unreal.
Jurong Bird Park
Birds live here virtually free. Here, just like in Singapore zoo, there are no cells. Birds pets move freely on the territory of the huge aviary, and park visitors are free to enter the fenced perimeter.
So, the biggest aviary bird park is home to 260 species of birds, and an aviary with parrots has more than 100 species of these beautiful birds.
The organizers took care of the convenience of itspets. For each bird species native habitat recreated virtually every detail. For example, in an enclosure with penguins installed powerful air conditioners. For the inhabitants of the tropics regular monsoon thunderstorms, and nocturnal birds to the park and the visitors were able to see these creatures, deliberately confused the time of day: day at night birds and night - day.
Photo