Season in Singapore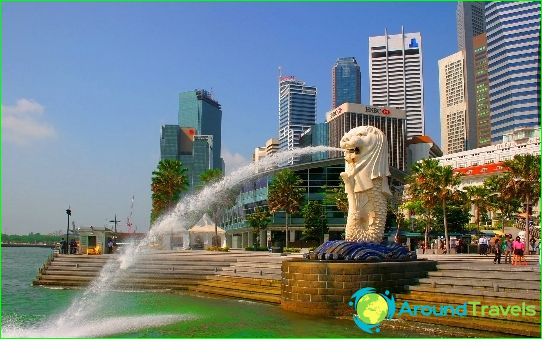 Season holiday in Singapore takes overyear. Despite the fact that in November and January are the rainy season - that is no reason to postpone a trip to this country, as short-term deposits and there is not so hot in this period, as in other months.
The tourist season in Singapore
It should be noted that regardless of the season in Singapore is hot and humid (30-31 air + water + 27-30 degrees).
Features holiday resorts on the Singapore seasonal:
Spring: Spring in Singapore heat (air + 27-28, water 28 degrees) - the time is ideal for visiting the national parks, holiday resorts on the island beaches, visit the Singapore zoo. In addition, this period will appreciate the bright Singapore festivals which take place almost every week here.
Summer: the summer months are characterized by good weather (air + 27-32, water 30 degrees) - rest in the coastal areas very comfortable, because there is always the sea breeze blowing. Summer holidays should be spent on Sentosa island, where there are many areas of entertainment, amusement, aquarium, water park, Dolphin Lagoon, Butterfly Park, Orchid Garden. In addition, in summer you will have the opportunity to take part in various festivals and national celebrations.
Autumn: the whole autumn perfect weather (air 30, water + 27-29 degrees) for swimming, sunbathing, walking around the island and city. At this time, if it is raining, it is not longer than 15 minutes.
Winter: Winter is characterized by warm weather (air + 24-29, water + 26-28 degrees). This time of year it is advisable to do shopping and to join a tour group.
Beach season in Singapore
Rest on the Singapore beaches all year round. Sentosa Island will give you a warm sea and sandy beaches (Tanjong Beach, Palawan Beach, Siloso Beach). Palawan Beach - the biggest and most popular beach of the island: here like a vacation for couples with children (here opened amusement park beach Port of Lost Wonder).
Diving
Dive season in Singapore - a year-round: the underwater world of Pulau Kapas please you encounter with soft and hard corals, turtles, moray eels, puffer fish, lion-fish, giant clams, sea urchins, rays. The best dive sites are Umbrella Rock, Coral Garden, Octopus Reef, Linda Reef.
By choosing to dive Pulau Tioman (idealplace - Fan Canyon, Kador Bay, Malang Rock), you will meet underwater tropical reef fish, parrot fish, barracuda, angelfish, spotted bass, black reef sharks.
Singapore - it is not just beaches and waterentertainment and sightseeing, eco holidays (many parks, an abundance of greenery, the lack of hazardous industries), and opportunities for thalassotherapy (in local spa-salon offers massages with medicinal oils, mask based on volcanic mud or seaweed wrap).
Photo