Tours in Singapore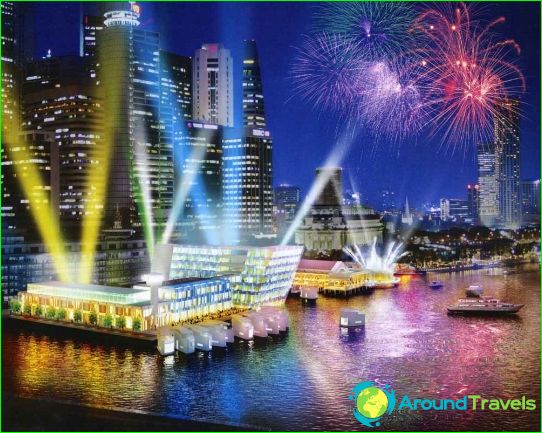 Singapore - a country, which is atown located on the island near the southern tip of the Malay Peninsula. Grow and develop in breadth the city is very difficult, because the territory of the island is very limited. That is why Singapore aspires upwards, but because of its skyscrapers - among the highest in the world. However, due to the land reclamation program, adopted in the country is still in the middle of the twentieth century, the city is increasing in all directions, and make sure that it looks modern, stylish and very bright, participants can tour in Singapore.
History and geography
Until independence in August1965, Singapore was a bargaining chip in many political and military conflicts. The first mention of the existence of the city of III century Chinese chronicles. Then the city was a major trading center in the Srivijaya Empire. He then went on to Malays and Portuguese, was part of the British Empire, and was conquered by Japan. Being an independent state, Singapore thirty years could make an amazing leap in the economic and cultural development and to become one of the highly developed world powers.
Briefly about the importance
Located in close proximity tothe equator, Singapore is stable temperature indicators throughout the year. In winter and summer, the air warms up to about 28 here, and the water is a bit warmer or cooler for a couple of degrees. Precipitation is likely to occur in any season, but the smallest number of them falls in February and June.
The crime rate in the country is very low, so thatcontributed to the rather strict laws. The system of high fines for administrative violations and helps comply with the rules. The most stringent measures are taken to the drug traffickers, but also for breach of the cleanliness of the streets will have to pay a round sum. Do not tempt fate and break the rules of conduct during the tours to Singapore, not to be in a sticky situation.
Singapore Changi International Airport - one of the largest in the world. Direct flight from Moscow takes a little more than 10 hours.
The city has a number of ethnic areas, where you cantaste the dishes in national restaurants or to buy goods and souvenirs of countries. Little India and Chinatown -Taun - the brightest representatives of such communities.
English is an official language of the state, and because during the tour to Singapore, you can be sure that local people understand their guests.
Photo