Transport in Singapore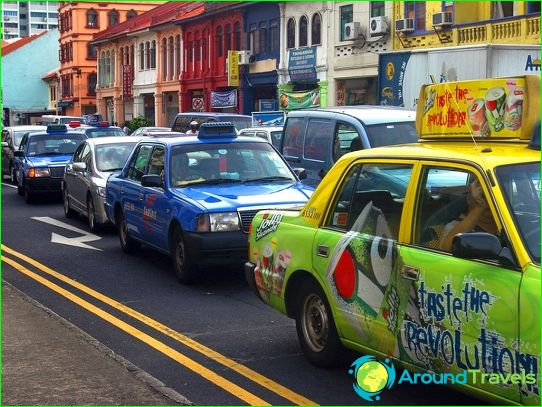 Transport in Singapore - it is a developed system of various kinds of messages: travelers can move not only on buses, and airplanes, ferries, trishaw, the cable car ...
The main modes of transport in Singapore:
- Public transport: it represents taxis, metro, buses, cable cars.
In Singapore, popular bus transport: pay the fare can be a special card or coins that need to be put in the driver's box (the change is not accepted to give, so before the trip it is advisable to stock up a trifle).
Those wishing to attend the Review on Singapore tour, is to go on a trip on the tourist double-decker bus with no roof.
In addition, tourists are offered a ride on a tourist bus amphibious: it transports travelers past the city's waterfront, and then along the river and sea bay (the trip takes 1 hour).
The cable car can get to Sentosa Island (the road runs high above the strait). During the trip you will be able to admire the skyscrapers of Singapore, the bay, the port of Singapore.
For fare can be purchased Ez-Link -Thanks to this electronic smart card (on entering and leaving the vehicle it must be applied to the reading device - the card reader), you can save money on their movements (about 15%).
For unlimited travel on publictransport (metro, light rail, bus) it makes sense to get a Singapore Tourist Pass, valid 1, 2, 3, 5 days (its use is identical to the use of Ez-Link).
- Water transport: for all those wishing to organize river cruises on the Singapore River. With the boat you can see a statue of the Merlion, Esplanade Theatre and other interesting sights.
Taxi
Taxi services on the island have 4 taxi companies: all cars are metered, so you need to make the payment, according to his testimony.
In general, travel by taxi costs are not very expensive, but operates from 23:00 the night tariff, which increases the cost of travel by 50%.
Pay off in a taxi can be cash or credit card, but in the latter case, you will be charged a small fee.
Travel by trishaw more expensive (the pricemust be negotiated before setting off in the way) than by taxi, but many tourists prefer to travel on them, to experience the Asian exoticism.
Car rent
Car rental on the island - it is an expensive service (about $ 150 / day), but only a passport and driver's license (minimum age - 18 years) required for the conclusion of the lease.
Note that operates in Singaporedrive on the left and, in addition, the island is strictly controlled observance of traffic rules. So, for driving without a seat belt, and with lights off from 7 pm to 7 am, and other violations of the penalty system.
Travel to Singapore - a pleasure, because the state offers excellent road network and there are practically no traffic jams.
Photo