Holidays in Singapore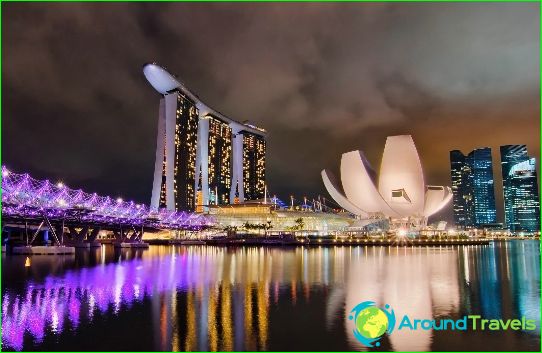 Holidays in Singapore allows tourists to walk onmodern and ancient streets, to try dishes from different cuisines of the world, enjoy the cleanliness and tidiness of the city, visiting bars, discos and cutting-edge shops.
The main types of recreation in Singapore
Sightseeing: because in the city there are 3 ethnic quarters, then walking through Chinatown, you will hit the contrast (here you will meet not only the old buildings, but also modern supermarkets). Walk on the Arab street will inspire you to purchase products from silk and velvet, perfumes and natural oils (in the downtown there is a lot of shops), and in Little India - for the purchase of spices, flowers and Indian souvenirs. As part of the tours you can see the building of the Empress to the museum, antiques and art gallery, palaces Peranakan and Istana, a ride on the giant Ferris wheel, stroll through the Botanical Gardens, to look into the Singapore Zoo (night work here attractions), go to the reserve park "Bukit Tim ".
Active: Active tourists can play golf, rock climbing or go-karting, to observe leopards on night safari at Singapore Zoo, swim with sharks in the Oceanarium "Underwater World".
Beach: Some vacationers escape from the city bustle in the shade of tropical gardens in the coastal zone EastCoastPark. Still beach holiday lovers prefer to spend their time on the nearby island of Sentosa (here can be reached by car, boat or bus) - there is a water park, golf courses, swimming lagoon.
Prices for tours to Singapore
Vacationing in Singapore is best in the high season - spring and autumn. But keep in mind that at this time to permit the highest possible price.
The increase in the cost of tours to Singapore observed during the celebration of various events, such as national food festival, fashion festival, the Dragon Boat Festival, etc.
To save money, you can go to the city during the rainy season - November to February or follow closely the proposals of tour operators, so as not to miss the chance to catch the World tour.
On a note!
Collecting bags in the street, put summer clothes made of natural fabrics, headgear, protection against solar radiation, comfortable shoes.
In order not to be fined at rest, inSingapore should not chew gum, litter on the street, smoking is not equipped for this field, cross the road in the wrong place or at a red light, eat in transport.
Leaving Singapore, get a silk umbrella or a fan, a set of spices, gold orchid products batik painting of stones, Chinese vase, Singapore traditional clothes with the characters.
Photos rest in Singapore