What to do in Singapore?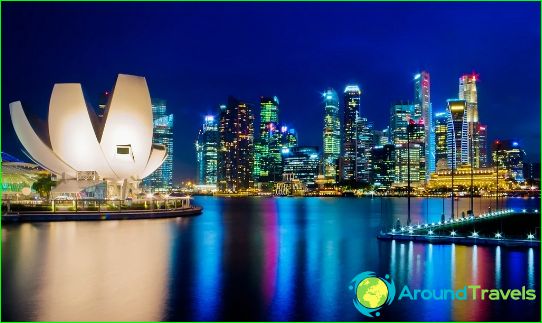 Singapore - a city known for its skyscrapers and neighborhoods with small houses, the World Bank, Buddhist temples, ultra-modern entertainment complexes, festivals.
What to do in Singapore?
Go on a tour on board the bus with an open top FunVee urban, night and from the objects of cultural heritage;
Visit the center of musical and theatrical arts "Esplanade" to look at the performances and musicals;
Go to the Park of orchids, which is in the botanical garden (where you can not only look at the beautiful flowers, but also to learn their methods of cultivation, and buy live orchids);
To see the laser show fountains.
Things to do in Singapore?
Meeting with Singapore is best to start on a viewing platform, which is on the roof of the hotel "Marina Bay" - here you will find not only the city, but also almost all the Singapore Strait.
Nature lovers must visit the gardensSingapore - Gardens by the Bay (you can find them at the Marina Bay). They are famous for the cool lake DragonflyLake and flora, brought here from different continents.
Enjoy the fragrant nature can andBotanical Garden. You can also join the tour, which will find out about the garden and its plants. In this garden you can spend the whole day (it's open until midnight), because here there are restaurants and concert halls.
Arriving in Singapore for shopping, just havego to the main shopping street - Orchard Road. This should go for Malaysian batik, Chinese silk, orchids in gold, electronics, Chinese herbs.
Couples with children can goSingapore Zoo, Aquarium Marine Life Park and a water park Adventure Cove Waterpark (there is a saltwater swimming pool, where you can put on a mask and swim with these fish is surrounded by coral).
In Singapore, very often are colorfulfestivals. Depending on what time you arrive here, you will be able to visit the different views. So, in March and April you can visit the Singapore Fashion Festival, in May - to get to the celebration of the God-Child born in May and June - to take part in the Dragon Boat Festival, and at the end of February - Spring Festival in Hougang.
Those who wish to spend time on the beach should bego to the east coast or the island of Sentosa (here can be reached by boat, bus or car). Sentosa addition to beach holiday offers fun on the rides and theme parks (dolphin show, 4D-cinema). As for diving, then this purpose is better to go to the southern islands.
Arriving in Singapore, you will be able to wander through the city, discovering new streets, meet the sunset on the beach, incendiary dance at the beach bar KM8.
Photos you can go in Singapore