Where to rest in Singapore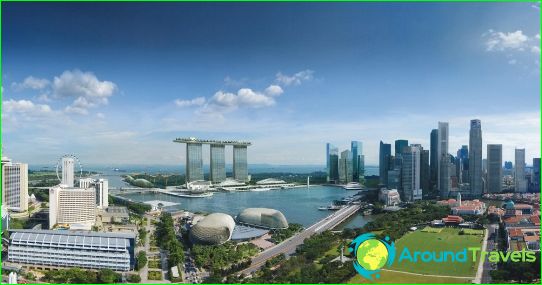 Exotic Singapore has always attracted tourists,but very popular tourist destination not. They come here for the revived numerous legends and miracles, dizzying mix of religions and cultures. But where better to relax in Singapore?
Chinatown
You should not be limited only to swim bythis city for your vacation. Must take a walk in Chinatown - Chinatown. Where you can admire the numerous temples, decorated with ornamental balconies. In addition to Chinatown, you can spend great time walking around the shops. In this area you can find not only the modern shopping centers, but also small shops, decorated in the old style. Gorgeous jade ware, porcelain trinkets, waxed umbrellas and many other little things you offer helpful salespeople. And then, on a cold winter evening, these lovely exotic souvenirs will be a reminder of the fabulous Singapore vacation.
Muslim Quarter and Little India
Do not indulge in this pleasure. This place is a "textile" center of Singapore. Here you can buy sarongs, absolutely incredible in quality silk and, of course, Indonesian batik. Not far from the wonders of the Muslim Quarter, you can find countless trays traders traditional Indian food. This Little India, a beautiful part of Singapore.
Sentosa Island
Where better to relax in the Singapore fansbask in the sun? Of course, on the island of Sentosa. It has a magnificent beaches, surrounded by green parks. The week day is not too many people, so the noise and bustle will not interfere.
But in Singapore, it is possible to swim andsunbathe without leaving the city. The city has many water parks, offering its visitors a huge swimming pool filled with sea water. Park Adventure CoveWaterpark stepped even further, to settle in his pool of these fish and corals. Therefore, visitors plunging to the bottom of the fall in almost a real underwater world of the ocean.
Orchard Road and Jurong Town
This area - a godsend for those who simply do notthinks your vacation without visiting restaurants, bars, nightclubs. There are going if not all night party-goers of the city, that is exactly the best part. The most luxurious shopping malls are waiting for their visitors. Therefore, shoppers should definitely visit the area.
Walking along Jurong Town certainly endvisit Villa Howe Par. This is a great park, where you can observe the life of animals. Also, do not indulge in other pleasures: a walk on avian Jurong Bird Park, as well as a visit to the Singapore Discovery Center.
Photos rest in Singapore