Bratislava Airport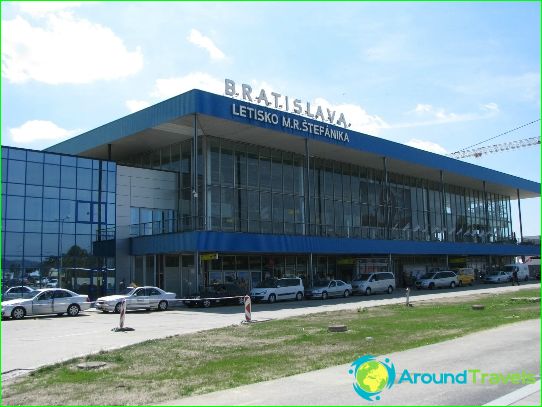 The airport in Bratislava MR Stefanik locatedin the vicinity of the Slovak Village Ivanka, heading for the provision of quality passenger service and development of civil aviation in Slovakia. Relatively small-scale airport serves domestic and international flights.
Every day from here sent aircraft toAmsterdam, Bucharest, Cologne, Manchester, Paris, Moscow and other cities in the world. In total there are about 20, and. With the entry of the country in the Schengen zone of the airport very quickly began to pursue retrofitting and expanding the geography of flights.
The main airline companies are stillis a Slovak company Travel Service Airlines, performing about 30 and departures daily. However, cooperation with companies in other countries Ellinair (Greece), Ryanair (Ireland), Bulgarian Air Charter (Bulgaria) also contributes to the development of tourism in the country.
History
Home Aviation in Bratislava connected with the firstflight from Prague to Bratislava in October 1929, when a biplane AERO-14 landed in Vajnory airport, the passenger ship was only one person. Even then it was clear that the proximity to the Carpathian Mountains will give existing airport proper development. And in 1946 the government decided to build a new airport in the vicinity of settlements Ivanka, where he is today.
In the early 90s the airline heldreconstruction and expansion of the airport, spent modernization of the runway and dividing the arrival and departure areas of passengers. But with the country's accession to the Schengen area, it took more than a large-scale reconstruction of the airport. customs control zones were introduced just 16 months to build a new terminal in the relegation zone, the reconstruction of the old, fortified and expanded the airport runway and conducted other activities to improve the operation of the airline. Air Harbor thoroughly prepared for the reception and service international flights.
Tools and Services
At the airport in Bratislava, has allnecessary means to ensure a safe and comfortable passenger service. There is an electronic scoreboard, highlighting the information about the movement of aircraft. Work referral services, sale of tickets and cash-mail. The airport is equipped with area for passengers traveling VIP-class. And also organized additional services for the disabled.
Transport
From Ivanka airport in Bratislava there is a regular movement of rail and buses. Also, their services offer the service of urban taxis.
Photos Bratislava Airport