The capital of Slovakia - Bratislava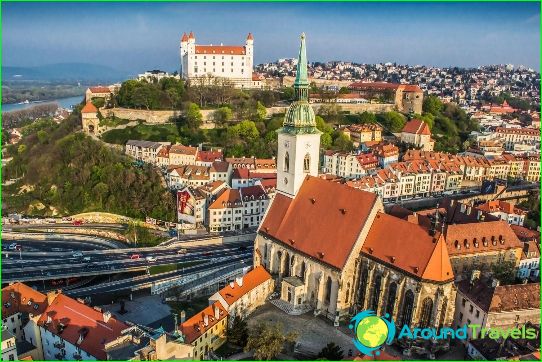 The capital of Slovakia, Bratislava - toolarge, but surprisingly beautiful city that once served as a place of coronation. There are many great castles and other interesting places to explore, so bored in this city you will be just once.
Gothic castle Devin
First on the list of visits by tourists to beit is this castle with an interesting history. The fortress often changed its owners, who have invested a modest contribution to its exterior. But over time, as well as all other military buildings and facilities, Devin has lost its value. And time did not spared fortress, damaging her appearance. Finally, Napoleon's troops destroyed the castle.
A little later, in the first half of the XIX century, the castle was given a "second wind". And after a while it became the center of patriotic holidays.
Mikhalskaya street
Quite often you can hear from tourists, the streets of Bratislava maze. They are a great many, but the most famous of them Mikhalskaya street.
At the beginning of streets is the famous MikhalskayaTower, which was built at the turn of the XIII-XIV century. It should be noted that the tower is very high - it "growth" is 50 meters. Inside the building is a weapons museum, which takes visitors on all days except Tuesday. Be sure to climb to the top of the tower, where there is an observation deck. It offers a totally amazing view of Bratislava.
Old Town Hall
It is not only the oldest building in the capital, but the whole of Slovakia. It is situated between two areas: the Main Square and the Primate.
Town Hall Building was held in two stages. The tower dates back to XIII century and ended with the construction of extensions to the beginning of the XV century. The building was significantly damaged by an earthquake in 1599. Aggravate the situation and fire that occurred in the XVIII century. After the restoration work on the facade of the Gothic building were features of baroque and renaissance.
Hall served as a venue for meetings of the city council. In different periods it housed a library, a mint and a prison. Now the city is a museum building.
Monument plumbing Chumil
This is probably the most unusual monument that you can find. It is located in the heart of Old Bratislava and looks like a plumber, half-rising from a manhole.
If you think that the residents of the capital in a similarproperly decided to immortalize this profession, you are mistaken. Chumil - a symbol that does not allow residents to forget how they were saved from the bombing of the Second World in sewage channels.
Be sure to feel around plumbing nose. If this is done, according to local residents, luck never turn away from you.
Photo