Prices in Bratislava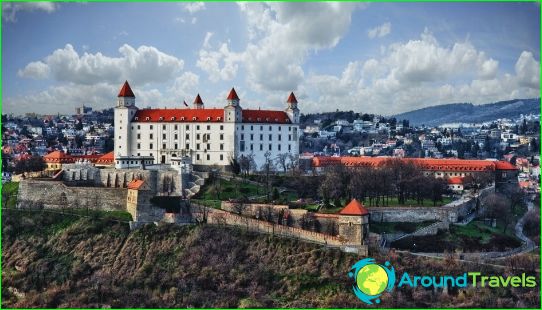 The most charming city in Slovakia is considered to beBratislava. It is the capital, in which accommodation is quite expensive by Slovak standards. Prices in Bratislava on 10% higher than the level of average prices in Slovakia. Week tour in Bratislava can be purchased for 600 euros.
Where to rent a house
In Bratislava, there are more than 150 hostels andhotels. They are concentrated mainly in the city center, close to the main cultural monuments. The most attractive for tourists is the Old Town. The best hotel in the area of ​​Bratislava is the Arcadia Hotel, a building which was built in the XVII century. Each hotel room features antique furniture.
In the city a little 5 * hotel, almost all of themare international networks and are designed for wealthy people. These include Hilton, Sheraton and others. Many hotels have their own spa facilities offering a unique holiday program for tourists. The Sheraton package (sauna, ice fountain, steam bath, fitness room, relaxation session) costs 45 euros.
The cheapest cost accommodation in hostels. In one of them, you can remove the seat at 90 euros per week. Rent a separate room for a week will cost 200 euros. The hotel 3-4 * Double room costs 400 euros per week. Rent a room for the same period in the upscale hotel can be for 1000 euros.
transportation services
The public transport fareIt depends on the distance of travel. Tickets are sold at bus stops, and at newsstands. The ticket price for travel on the city bus is 0.5 euros. By purchasing a ticket, the passenger can go for 15 minutes. To make the hour-long trip, you must buy a ticket for 0.7 euros. A ticket for a week costs about 12 euros. Children aged 6-15 years receive a 50% discount on the fare. The penalty for ticketless travel - 1.4 euros.
Excursions in Bratislava
In Bratislava there are many interesting touristroutes. Here you can see the old houses, palaces, monasteries and churches. Sightseeing tours allow to get acquainted with the many unique attractions. These include the Mausoleum of Chatam Sofer, the medieval castle of Bratislava Castle, Michael's Gate, and others. Individual tours are more expensive on the Bratislava group. The cost of city tour for a group of 3-5 persons is 40-45 euros. The program is designed for 3 hours.
Hotels in Bratislava, you can ordera tour of the cities of Slovakia. The tour takes place on the route Bratislava - Nitra - Trnava - Small Carpathian Wine Road - Bratislava. The tour lasts 8 hours and costs 80 euros per person.
Photo