Shopping malls in Bratislava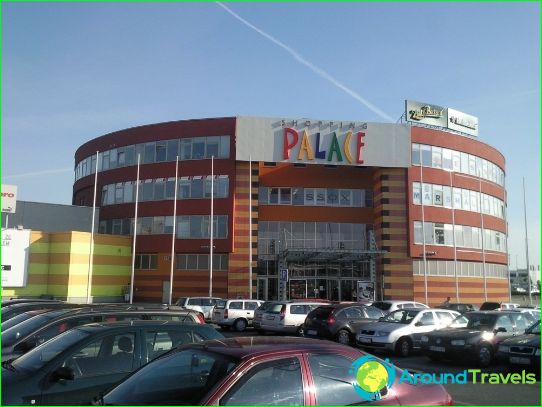 In Bratislava advised to attendshopping centers with the aim to buy something practical or take away as a souvenir souvenir. In the city center the ordinary for many major European cities, the shopping street are not observed. Of course, some small shops in low concentrations are present, there is even a central department - «Tesco». But a wide variety of goods, he does not possess. Prices are average European, it is quite acceptable, filling goods - standard for Europe. Souvenirs, food, clothing for the whole family and all occasions, jewelry, books, electronics - all there will be. Sales take place in January-February and July-August.
Popular outlets
Shopping and entertainment center «AVION»characterized by the huge size, is located on the Ivanská cesta street. Time to him from the city center on one data - 15 minutes, on the other - no more than 40 minutes. In any case, to get to him briefly. The Centre brings together several large hypermarkets - Swedish household "the IKEA", Italian furniture «Chateau d'Ax», and the Bermuda Triangle for "Electro World" men, in the sense that other men can "freeze" it for an unlimited time.
Luxury mall «Eurovea» located on no less beautiful Danube, near the fashionable hotel «Sheraton».
Shopping and entertainment center «AUPARK» looking inPetrzalka district. It is conveniently located for the city's transport system, on foot from the center of the new bridge before him just minutes 10. In addition to the myriad of product assortment in the store is a theater kiosk, laundry, pharmacy, shop watchmaker.
Market in Bratislava Mileticova looking on the street. Here the freshest products from surrounding farms. But for artifacts from the depths of time to go, for example, the ruins of Devin Castle - a place chosen is very symbolic. Such antique hangouts in the city in the past month carried out several in different geographical locations. Every weekend you can find an open one or another "flea", but time and space are always needed to be clarified.
Photos Bratislava shops