Where to eat in Bratislava?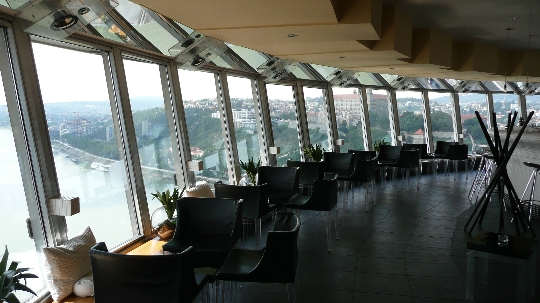 While vacationing in the capital of Slovakia, for sure, there will bequestion: "Where to eat in Bratislava?" The city has a Slovak, French, Chinese, Italian, Indian and other restaurants. In addition, the city opened a cafe, bakery, bars, bars, "winery" ... You may want to visit a restaurant with a rotating floor, located in the TV tower. Here you can enjoy the taste of various dishes and open views of the city.
Where to eat in Bratislava cheap?
If your goal - inexpensive meal, go toSlovak Pub: here you can try the dumplings with sauces and fillings, cabbage soup with smoked meat, dumplings with cheese and other dishes made from produce grown on their own farm. Budget meal, visit "Delicatessen Sherlock" and "Theta", which offers a taste of hot and cold treats. Low prices will please "foodies Bratislava Tavern" - here serves Slovak dishes prepared according to old recipes. So, here it is to eat fried pork ribs with baked potatoes, bryndzové halušky, dark draft beer.
Where to eat in Bratislava tasty?
Restouricia u Prasitka: This restaurant offers European and Slovak cuisine. It is worth to try the grilled cheese and garlic soup, as well as a variety of wines.
Modra Hviezda: This restaurant, room is carved into the rock below the castle, you can rest after sightseeing or visiting the Castle. You can find dishes Eastern European cuisine and excellent wines in the menu. Here you will be offered to taste the beef stew with vegetables and spices, lamb meat with hot sauce brand. Be sure to try specialties such as reindeer steak and wild boar meat in a cream sauce. In this place you can easily come up with the children - for them there is installed special furniture (tables and chairs) and has a parrot in a cage.
Antica Toscana: in this restaurant menu includes dishes of European cuisine, but the specialization of this institution is to Italian cuisine. It's worth a try Piatti paste, Bruschetta, and as a dessert - eat tiramisu or panna cotta. In addition, here you can sample Slovak and Italian wines.
"Mayer": in this cafe, you can have a great time with the children. Younger visitors are offered to eat the most delicious cupcakes, and their parents - to take advantage of special offer: coffee + dessert + a glass of champagne (it will be cheaper than ordering the same thing separately). It should be noted that the interior of the restaurant is in the style of the 19th century, and the waiters are dressed in traditional Slovak costumes.
Gastronomic tours of Bratislava
Going on a wine tour, you can visit the wine museum and taste there for 100 minutes, 80 wines (approximate cost - 20 euros).
Many museums, palaces, churches, memorial sites, picturesque Slovak cuisine - all waiting for you on your vacation in Bratislava.
Photo