Traditional cuisine of Slovakia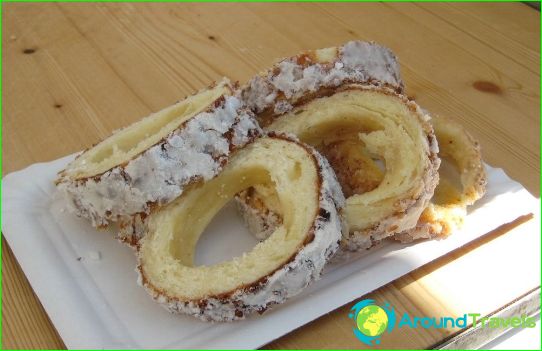 Food in Slovakia is considered to be the cheapest inEurope: local establishments food is tasty, hearty, varied and inexpensive. Breakfast is expedient in the restaurant at the hotel, because early in the morning almost all the restaurants and cafes are closed, only work in the center of bolih cities.
Food in Slovakia
In the Slovak cuisine was influenced by the Hungarian,German, Ukrainian and Polish culinary traditions. Diet Slovaks make porridge, vegetables, soups (cheese, mushrooms, meat, vegetables, garlic), meat, fish, dairy products (cheese, yoghurt, smoked sheep cheese).
In Slovakia, it is worth trying the dumplings; soupbased on sauerkraut (kapustnica); goose or chicken and dumplings; French fries with grilled cheese and salad; dumplings with cheese and potatoes (bryndzovehalusky); venison pate; fried pork leg ( "baked veprevo knee"); donuts "longoshe", served with garlic and oil; potato pancakes ( "lokshami"); dumplings with cheese, paprika and herbs; roasted goose wings; hot roll on the basis of various types of meat; steaks and chops from the game; goulash garnished with mushrooms and potato pancakes ( "Spiš pohutka").
A sweet tooth will be delighted by pancakes with peaches, cake with chocolate, fruit and cream, apple strudel, local ice cream.
In Slovakia, you can eat:
in cafes and restaurants of international cuisine;
in "kolyba" (small local restaurants where you will be served delicious dishes of national cuisine) and "tsukrarnyah" (here you can enjoy light snacks and desserts);
in caves (there you can order fries, dumplings with cheese, grilled sausages and chicken), pizzerias and other fast-food establishments.
Drinks in Slovakia
Popular drinks Slovaks - coffee, mineralwater (Rajek, DobraVoda, Mattoni, Budis, Myticka), beer, plum brandy (slivovica), pear vodka (hruskovica), juniper vodka ( "Borovichka"), gin, liqueurs, Herbal tinctures.
Resting in Slovakia, it is worth trying the localbeers - Topvar, Saris, ZlatyBazant, SmadnyMnich. And wine lovers should take a trip on a special wine route - you go round the city, in which are involved in the wine trade, it tasted the best wines ( "Tokai", "Vlašský Riesling", "Rachenska Frankovka", "Limbashsky Sylvan").
Gastronomic tour in Slovakia
you can go to Slovakia If desired,annually held here Culinary Festival and Slovak wines. On the wine festival you will be able to talk with the winemakers (they talk about wine production technology), taste a variety of drinks, and culinary festival you will be able to taste national dishes and local products (honey, truffle, cheese, ham, chocolate, bread).
Holiday in Slovakia - it is not only a greatopportunity for excursion, recreation and active (diving, rafting, fishing, caving, ski slopes) tourism, but also to explore the local cuisine and drinks.
Photos national Slovak dishes