Railways in Slovakia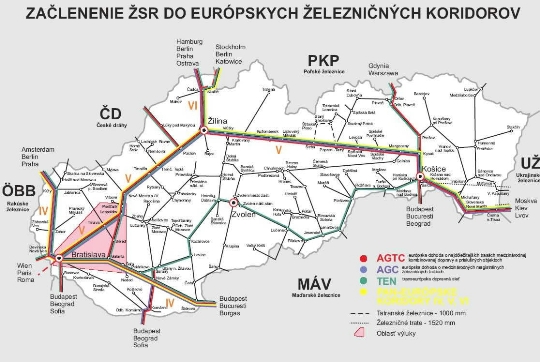 Railways Slovakia are popularmeans of transportation. Scope w / d transport of this country is very well developed. For many popular routes trains run hourly. In major towns supported by more intense movement. The most significant routes of the country:. Bratislava - Žilina, Bratislava - Sturovo, Zilina - Kosice, Bratislava - Kuta, etc. Railway communication is carried out between Slovakia and neighboring countries. Slovakian trains arrive in Warsaw, Vienna, Moscow, Prague, Kiev, Bucharest, Budapest and other cities.
Train / railway began operating in the territory ofSlovakia in 1840, when the first route from Bratislava was opened. Today, the country is famous for its well-organized transport system and is listed in the International Union of Railways.
What trains run
Regional trains that make frequentstop, stand for Os (Osobni). Passengers also carrying trains Ex category (Express) and R (Richlik). The maximum speed of developing compounds IC (InterCity).
Railways in Slovakia are undermanagement company ZSR (Slovak Railways). Tickets for the most popular trains have to be booked in advance. Schedule of trains presented on ZSR website - www.zsr.sk. Railways countries have a length of about 3662 km. Train - This is the fastest means of transportation in Slovakia. Compositions cruising the inner lines are not equipped with bunks. Such places exist in international trains. Rail transport in Slovakia is considered to be fast. The road route Bratislava - Košice takes 5 hours by IC train.
Tickets and prices
Ticket for a place in the first grade is approximately 20Euro. To take a bed in the night lineup, should pay. From the main train / railway station in Bratislava on trains in different localities of the country. It also sent international class compositions. Slovakia - a small country, so to move the passengers are mainly used, trains and automobiles. Republican country Railway provides quality service at reasonable prices. Trains run at considerable speed, given the mountainous terrain. From Bratislava to Zilina are compositions, Trencin, Kosice, Poprad and others. Almost all railway stations went through reconstruction. They are modern and functional with good service. In rail transport, there are youth and student discounts on the European rules. On weekends, operate special discounts.
Photo