Children's camps in Slovakia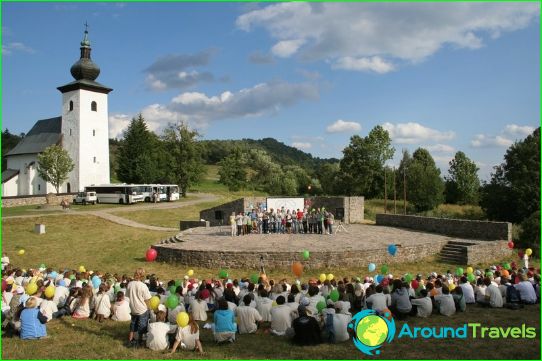 Slovakia offers camps for children of various types. They are summer, winter and year-round. Every year in the country's camps rests a huge number of children from around the world.
Children's camps in Slovakia different arrange accommodation. Many of them are hotels with 3 * or 4 *. There are camps on the territory of which the small cottages are located.
Development of children's tourism in the country takes placevery active. Slovakia has always maintained a high level of children's camps. Since Soviet times they were considered the best in the world. Today, the infrastructure of children's leisure has become more perfect. The priority of tourism in the country has been and remains a family vacation. Also, there are well-developed youth tourism.
The camp attracted Slovakia
The country lacks access to the sea, but it does notdiscourages parents who want to buy a ticket to the camp. Slovakia specializes in alpine skiing. There go the tourists who prefer educational and leisure. It offers the best ski slopes of the Carpathians and the Tatra Mountains. If you want to "put" the child on skis, choose Slovak camp. The advantage of the local resorts - affordable prices, but the high level of service. Education in the ski school is cheap.
Children's camps in Slovakia - the best solution forchildren who like skiing. During the winter holidays, many camps are functioning. Guys can combine leisure with active occupations. In winter children's centers, popular skiing and skating. The most famous resorts are focused on skiing - it Štrbské Pleso and Jasna. The latter option is more expensive. In Yasna a lot of people and a long season. The Strbske Pleso vacation is a more relaxed and cheaper. To visit the children's camp in Slovakia need a Schengen visa.
Health camp
In Slovakia, you can improve your health. To do this, people come to the resorts with thermal springs. The country has about 1,500 sources of healing mineral water. In this respect, Slovakia is a champion among the other European countries.
Children thermal pools cause violentemotions. Especially when swimming in warm spring occurs in the winter and outdoors. In many basins water temperature exceeds 40 degrees. These baths are very useful for children and adults.
In addition, in Slovakia there are many uniquecultural monuments. On its territory there are beautiful castles that are open to the public. Children examine them as part of guided tours. Of particular interest are čachtice castle, Spis Castle, Bratislava, and others.
Photos of children's camps in Slovakia