Kitchen Slovakia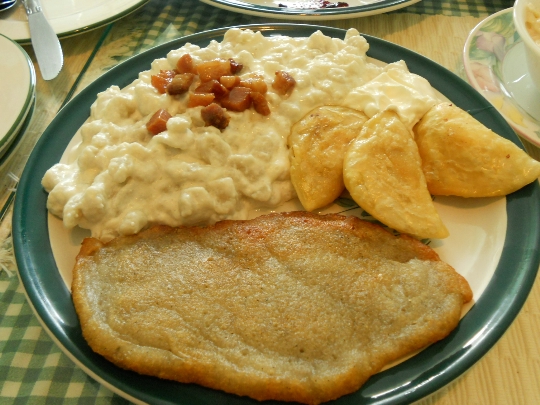 Cuisine of Slovakia - a "cocktail" formed by the European cooking (in particular, Hungarian, German and Austrian) and components of national color.
National cuisine of Slovakia
The basis of the Slovak cuisine make dumplings,dumplings, meat, vegetables and cheese. Meat-eaters will love the consumption of roast duck with sauerkraut; envelopes of pork with asparagus, chopped ham and cheese; meat pies from venison; roast goose with dumplings. Local cuisine is unthinkable without the first courses - Slovakia eat vegetables, cheese, meat, mushroom, and even garlic soup.
Lovers of confectionery and bakery products Do not abandon the Slovak pancakes with peach filling and "longoshe" (donuts fried in oil, to which is added the garlic).
Popular Slovak cuisine:
"Veprevo baked knee" (a dish of fried pork leg);
"Vyprazhanny cheese" (cheese, fried in breadcrumbs);
"Spis pohutka" (a dish of beef goulash with potato pancakes and mushrooms);
potato lepeshki- "lokshi" with goose wings;
stuffed chicken with paprika.
Where to try Slovak cuisine?
Before ordering something localrestaurants, tourists are advised to read the menu and prices. It is worth noting that most of the restaurants are concentrated in the big cities and major regions, so relaxing away from tourist routes, you should prepare for the fact that the food places are much rarer (look for them advisable in hotels, hostels and boarding houses). Tasty food can be enjoyed in pubs: Slovak pivnice offer food at lower prices than in other food establishments.
Satisfy your hunger in Bratislava recommended"Slovak Pub" (guests are waiting for Slovak cuisine - in the menu they will find potato dumplings with cheese and desserts of yoghurt, and there is no doubt that a cold beer there certainly will be served cheese) or "Modra Hviezda" (there should be enjoyed braised beef with vegetables and spices and baked veprevo knee).
Cooking classes in Slovakia
Staying in one of the eco-hotels of the SlovakKosice, wanting not only will be served seasonal dishes, but also will give master classes for their preparation (you can take part in cooking after the chef).
Pamper yourself with a good organic foodand can be in one of Slovak farms, and even if you want here is for you to hold gastronomic workshops, involving the preparation of an independent Slovak dishes and tasting with borovichki and slivovitz.
The trip to Slovakia is to coincide with the holiday "chateau wine festival" in honor of the grape harvest and the young wine (September) or Winter Food Festival (January-February), dedicated to the Slovak cuisine.
Photo