Shopping in Slovakia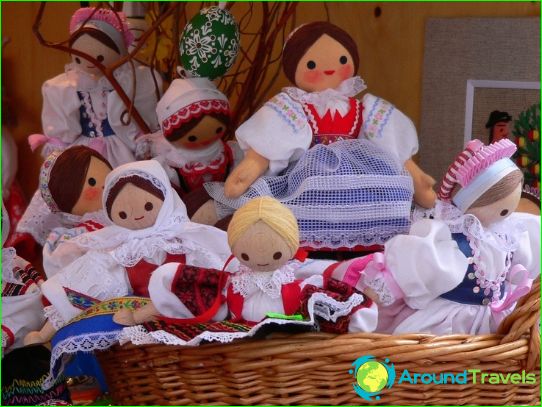 In Slovakia is a small number ofclimatic zones, which causes a variety of landscapes and types of recreation. The close proximity to the Austrian, Hungarian and Czech culture was reflected in temperament and way of life of inhabitants of this country.
Where to buy
In shopping centers in Slovakia, we can not onlydo some shopping, but also to eat, have fun and play sports. Most popular - Avion, Aupark, Danubiana, Polus City Centre, Soravia Shopping Palace and Tatracentrum are in Bratislava. They are products of world brands at attractive prices. Many people buy it is in Slovakia gear for extreme sports, which is produced in this country.
If you want to buy antiques, you will need topay attention to the store "Starozitnosti", it is where you can buy what you need. There are chain stores Dielo, which also sells antiques and paintings and handicrafts by local artists.
Slovak crystal without impurities of zinc and elegantsophisticated - if you are afraid not to damage during transport, you can buy. Slovak souvenirs - dolls supolka (supolka), national costumes, bells, bags, wool is better to buy in chain stores ULUV SNP.
Tapestries, tulle, embroidered tablecloths, napkins,Clothing in national style is sold in souvenir shops. They can also buy chrpak (crpak) - a wooden mug pitcher, intended originally for sheep's milk; Fujara (fujara) - woodwind instrument, after which Slovakia even hosts an annual festival; Valaská (valaska) - painted decorative ax, which served as soon as a cane when walking in the mountains.
What to buy
For the sweet tooth there is chocolate, "Le Figaro", cookiesTatranka and Medovinky - painted gingerbread, more like a work of art. Delicious local cheeses - feta cheese, cheese fences, "oshtepok" and "Parenica" sold in any store. Even Slovakia is known for pumpkin oil, it is also possible to safely carry as a souvenir.
Slovak wines from Zagorski, Little Carpathians,Nitra, Tokai and Topolchanskogo areas known for their high quality and sparkling wine Hubert is considered one of the best in the world. For fans of more hard liquor have noble Karpatsk brandy pecil, plum varieties Old Herold Vinjak, Hradne Brandy and liqueurs Demanovka and Horec. If you want to bring a gift to beer, the best are the brand Topvar, Zlaty Bazant, Saris, Gemer, Martiner.
For women, a good gift would be a local cosmetics based on Fango - mud therapy.
Do not forget to look at the market, because prices in stores are often much higher.
Photos of Slovak goods, shops and markets