Airports in Sweden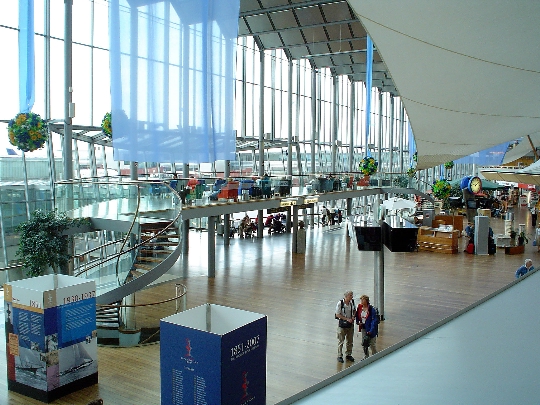 The Scandinavian country of Sweden Aviation - one ofthe most popular modes of transport. There are several dozens of airports, among which are the international status of more than half. For Russian tourists fundamental importance is the capital of Sweden Airport. That land in Stockholm daily direct flights of "Aeroflot" and SAS from Moscow. Northern capital of Russia is connected with the Swedish Scandinavian Airlines flights. Travel time from Moscow and St. Petersburg is 2 and 1.5 hours, respectively.
The international airports in Sweden
About two dozen points on the map of Sweden - is its international air harbor, where every day to land planes from around the world:
On www.swedavia site.se / en / Goteborg you can get all the details of the second largest country in the Gothenburg Airport. From the city it is separated 20 km, and two terminal service set of regular and seasonal flights from Europe.
A few minutes drive from theDanish border is air harbor of Malmö. In the only terminal passengers served by Wizz Air from Poland, Hungary, Romania, Serbia and domestic airline customers. Schedule and information about the services available on the site - www.lfv.se.
The only scheduled service to the airportNorrköping commits airline Flybe from Helsinki. The rest of the flights appear in the local schedule as seasonal or charter - summer residents of the southern regions of Sweden can go away on holiday to Spain, Turkey, Greece and Croatia. More details on the site - www.norrkopingairport.com.
metropolitan area
37 km share capital Arlanda Airport and Stockholm. The city where the airport is located, is called Märsta in Uppland province.
Arlanda is one of the fastest growingair harbor of the Old World, and is capable of taking more than 20 million. passengers annually. Terminals 2 and 5 are used for international flights, and from terminals 3 and 4 are made regional flights.
It offers passengers the airport of the capital of Sweden- Shopping district Sky City, where open dozens of duty-free shops, restaurants, cafes and souvenir shops. 400 rooms of modern hotel guests are ready to take on the long-time connections.
Transfer and directions
On the airfield air ports presentedthe vast majority of European and many international airlines. The largest volume of traffic accounted for Scandinavian Airlines and Norwegian Air Shuttle.
The fastest transfer to the airport and back to offer high-speed train Arlanda Express, overcoming the distance to the central train / railway station of the capital in 20 minutes.
The cheapest transfer - on Route 583 buses, which follow up Märsta. The city will have to change trains for suburban trains to the Swedish capital.
Fees for a taxi in Sweden are not regulated, but because of the trip what you want the amount can be requested.
Airport Website - www.arlanda.se.
Photo