Christmas in Sweden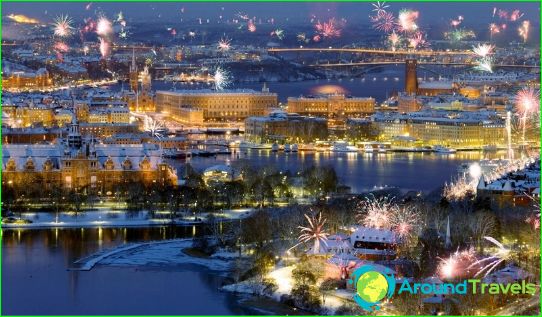 Country where the IKEA invented, created VOLVO,Carlson was born and rattled ABBA, has every right to be called one of the most tourist in Europe. Firstly, because there is very beautiful, and secondly, because of the excellent opportunities for winter vacations. So go celebrate Christmas in Sweden - it is a wonderful idea.
The gingerbread house
For the Swedes this holiday - a family and quiet. They prefer to gather in the family home, and sitting by the fireplace, ate delicious food, drink hot glёg red wine with spices and tell each other how a year has passed. On the table at any of the Swedish family is necessarily present dried cod, pork and gingerbread houses.
Preparing for Christmas in Sweden beginsfour weeks. The whole country is committed to participate in the marathon, which is considered the main stages of the four Sundays. In each of them on a special candlestick lit another candle, symbolizing the approach of the holiday favorite.
Streets and houses richly decorated with illuminations andsparkling gold Christmas trees are competing in the decoration and Christmas sales force to ravage the wallets to make Christmas gifts to loved ones and friends.
Swede and skis - twins!
Those who can not imagine themselves without the active recreation,it is worth remembering that Christmas in Sweden could be a great opportunity to take an active sport in the open air. The Scandinavians are the ancestors of many winter activities. some of the best ski slopes of the Old World are built in these countries.
Take, for Sälen. The main guests of the country's largest resort - married couples with children, for skiing and snowboarding in Sweden - the main national pastime during the long winter months. The place is located on the southern spur of the Swedish mountains and has five different skiing regions.
Season in Sälen starts in November and successfullyfinish until the end of April. The total length of local trails is more than 80 km, with a range of heights up to half a kilometer. In total, the resort operates nearly a hundred lifts, so to get to the desired point can be without hustle and queues.
Christmas in Sweden can dedicate and inspectionStockholm attractions - one of the most beautiful cities in Europe. His strict charm could not be more in line with the mood of the winter holidays: a little low-key and elegant, but very warm and welcoming in fact, the city will remain in the memory of every guest and give a lot of pleasant moments of communion with him.
Photos of Christmas in Sweden