Kitchen Sweden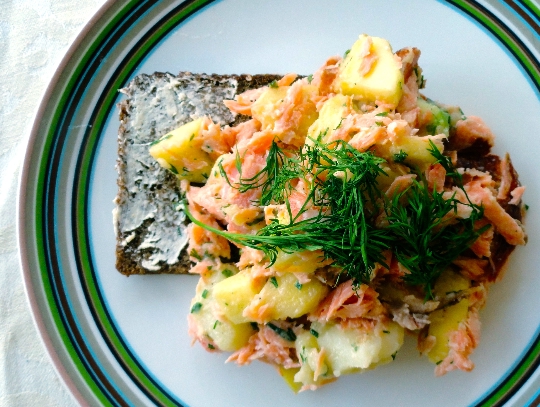 Despite the fact that Sweden is famous for its cuisine is quite simple with no frills dishes are hearty and tasty (then popular marinades, pickles, canned, dried and pickled foods).
Ethnic cuisine Sweden
Fish - a frequent guest at the buffet: it is baked, fried, smoked, grilled or with the addition of wine, served with white sauce or lemon. On a side dish often served fried, baked or boiled potatoes and meat supplemented with mushrooms, fried onions and cream. On the table, the Swedes are always present meat dishes of rabbit, venison, partridge, venison, so you should definitely try the meatballs elk. As for the popular snacks in Sweden, this role is assigned to Skagen toast - toast, which are laid out finely chopped products, mayonnaise.
Popular Swedish cuisine:
"Grave" (a dish of salmon, which is in the process of cooking impregnated with a special marinade);
"Zilbular korintzes honey" (herring filet with sauce);
"Lutefisk" (a dish of boiled sea pike);
"Isterband" (acute pork sausage);
"Unstekt algae" (a dish of roasted elk meat);
"Nasselsuppa-lead-err" (soup with oysters).
Where to try the national cuisine?
The Swedish restaurants, you will have the opportunity to order any dish, not only individually, but also combined with each other entrée, appetizer and dessert at a fixed price (sets).
You want to save money? Pay attention to the places, Pestryaev advertisement "dish of the day" or "lunch of the day" (discount) - in their price includes also the bread, and salad.
In Stockholm you can visit the "Gyldene Freden"(Visitors are served meatballs with mashed potatoes, pickles, cranberry sauce) or "Pelikan" (it serves food in a simple dish, found in many homes Stockholm: here it is recommended to eat Swedish meatballs and a local beer), and in Malmo - "Arstidernain Kockskahuset" (guests here enjoy fillet of reindeer with currant sauce and morels, beef fillet with mint sauce, cottage cheese) or "the Anno 1900" (in the menu of this restaurant visitors will meet classic Swedish position as halibut with horseradish sauce, fried herring, soup cauliflower meatballs).
Cooking classes in Sweden
A stay at the culinary classes available at the hotel"Radisson SAS Royal Viking": chef divides visitors into groups, offering each of them to cook a side dish, dessert, appetizer, main dish, and then all together to eat cooked dishes.
The trip to Sweden is recommended to podgadatconducting culinary festival "A Taste of Stockholm" in June (in addition to the tasting of dishes, participants expect musical performances and artistic performances) and a chocolate festival in October (guests get acquainted with the technology of manufacturing chocolate, chocolate sculptures show, offering to take part in various competitions).
Photo