Christmas in Stockholm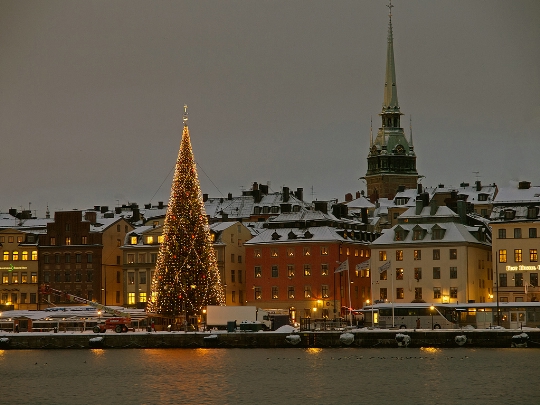 Christmas in Stockholm - a great opportunity to stroll through the streets of the city, see the spiers of cathedrals, to hear the ringing of the bells of old, treat yourself to Christmas shopping.
Features of the celebration of Christmas in Stockholm
Occasion Swedes set in the houseChristmas tree, decorating it with tinsel, balls, flags, walls of dwellings - images of winter landscapes and good houses, and tables - tablecloths with Christmas motifs and candlesticks.
The Christmas menu is usually presentdried cod, salad with anchovies, onions and eggs, Christmas ham, homemade liver pate, pickled herring, pork sausage. And after the feast, "appears" Yul Tomte (Swedish Santa Claus) - he gives gifts and wished everyone a Merry Christmas.
Attention travelers deserve specialChristmas buffets (yulburd) in restaurants - here you can taste all Swedish dishes (salmon, tuna, herring, sausage from moose and reindeer, Christmas chocolates). For example, you can visit the hotel's restaurant "Grand Hotel" or the restaurant "Operakallaren" (located in the Stockholm Opera House building).
Entertainment and festivities in Stockholm
It is recommended to go on a cruise on the ferry toicy archipelago Federholmarna on the island (here offers restaurants with Christmas "Buffet"), but if you want to order "Christmas dinner" can be on the ferry.
Visiting the museum of tales of Astrid Lingred (Junibacken),wishing to travel to the "journey" to the fairy train (departure point - Fairytale Museum Square) - they see the kid and Carlson vasastan in the area, and little trolls, Roni and robbers - in the woods. In addition, they will be able to go to a party at the Pippi Longstocking at the "Villa Villekulla". And in the end, "travel" you can look at the museum restaurant to eat (if you wish, you can make reservations for Christmas dinner with entertainment program in the corresponding tales Museum, "Junibacken").
Be sure to admire the Christmas windows of an old department store Noediska Kompaniet (a place of attraction not only children but also adults).
Who wishes to go skating, will be able to realize our plans at the city rink Kungstredgorgen park.
Christmas Markets in Stockholm
On Christmas markets in the Swedish capital canacquire not only knitted clothes and candles, and various goodies - nuts in syrup, homemade jam, pepper cookies, delicacies red caviar, heated gleggom with raisins and almonds.
These markets guests happy and Stortorget SquareSkansen (here it is possible to observe how craftsmen make candles and bake bread, as well as to try their hand at these things), and Sergels Torg Square Kungstradgarden.
Photo