Shops and boutiques in Stockholm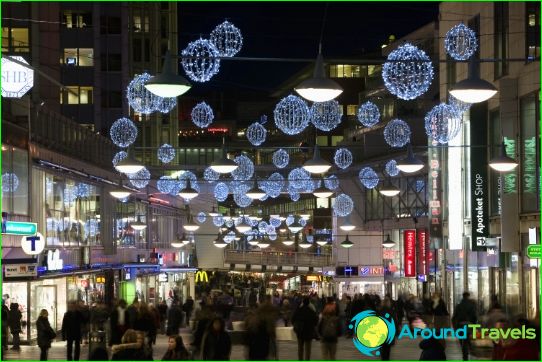 It is unlikely that shopping is the main objective of guestsStockholm. Prices in the capital of Sweden "Gucci" and "Armani" high yield variety of collections of Milan, Paris and London. The beauty of shopping in Stockholm in the other - in the Scandinavian design goods, in an interesting concept of clothing that is suitable for both everyday wear and festive outputs. A Swedish furniture and home furnishings are not limited to the design of Ikea. Shopping in Stockholm will appeal to those who evokes boredom standard contents of the shopping and entertainment centers.
Popular outlets
Drottiggatan Street and the surrounding neighborhoodsThey contain a lot of web brands, shopping malls, shops Scandinavian designers. At the intersection of the street with Sergelstorg is the biggest Swedish department store Ahl ns City, featuring excellent value for money .. On hamngatan another department - Gallerian. It is possible to rest the legs and sit in one of the many restaurants. And then look for classic Swedish jeans in close-fitting or the Swedish clogs made of wood.
Maybe you think that you visit storesH & M is not anything original? Sweden - the birthplace of the brand and the most complete collection of stores are in Stockholm. In the vicinity of several Hamgatan. Proponents of luxury also will not be disappointed. At the same they will Hamgatan NK center.
Boutiques Scandinavian and European designersbrand high-price segment are concentrated in the Ostermalm area. This residential quarter respectable Swedes Stockholm nobility and bourgeoisie. It spelled out the most important embassies and the most expensive real estate. Shops and restaurants correspond to peaceful public Ostermalm. They and trendy new items, and a luxurious classic, and expensive antiques. Here, for example, is a boutique pioneer of Swedish fashion Anna Holtblad and interior design shop Svenskt Tenn, the antique auction Bukowski.
The area is SOFO at Södermalm islandFolkunggagatan neighborhood streets. This is the area of ​​Stockholm bohemia. There are many night clubs and restaurants, which are going to hipsters, young designers and artists. Their works can be bought in shops or quarter in the exhibition Art Concept Store. Boutiques trendy clothes original side by side with those who offer vintage style. Immediately and antique shops and jewelry stores.
Photo shops in Stockholm