Transport in Stockholm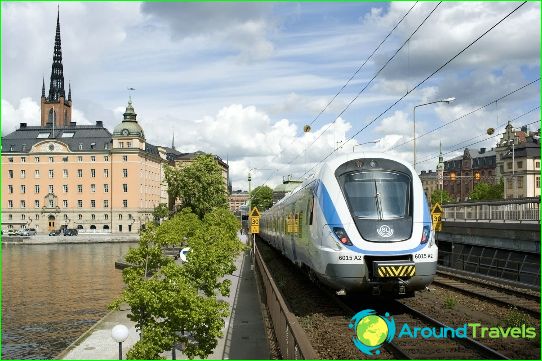 The capital of Sweden - the old beautiful city celebrated its 700th anniversary and to move confidently into a bright future, which once dreamed of millions of Soviet citizens.
Here are all the benefit of a person, all the services of locals and tourists coming from different parts of the planet. Including transport in Stockholm, which the system is convenient, comfortable, understandable.
Warning sign on the «SL»
The entire fleet of the capital movement andsurroundings, information centers, kiosks for the sale of tickets and even the travel are labeled SL. Tourist, falling for the first time in Stockholm, instantly understand how and where to move. In this transport works just like a chronometer, a little book with the schedule can be purchased at the station controller or driver.
There is a magical tourist map The SLTravel Card, with which open the doors of subway cars and buses salons, and pay an additional fare is no longer necessary. Also, this important document will pass for free parking, the entrance to the ferry and in 80 chic museums Swedish capital.
Space Without Borders
In Stockholm, people are carefullydisabilities. For the disabled in the subway, there are escalators and elevators, and not just the usual ladder. Buses approaching the stop, bend down to the man in the wheelchair was more convenient to enter the interior. On the other hand, everyone respects the personal space of another person. If the cabin of the bus seats enough, all sit down at a respectful distance from the neighbor.
The Union of Nature and Man
Stockholm metro can be made to the listthe main local attractions, some tunnels cut through the rocks, so that in many places the walls and top coat to preserve the natural state and natural beauty. Modern builders have added color and huge rock paintings, which made many of the stations look great, while reminiscent of the scenery for a fantastic performance in which the main roles are played by history and modernity, nature and man.
Car driver
For guests of the Swedish capital will be a realdiscovery of what should be the future drivers, such as in Stockholm, polite and humorous. Along the way, each movement is declared the next stop and final destination.
At the subway station, where the part of many people,driver handsfree necessarily all greet and wish Godspeed. The bus driver greets every passenger, and one of them even has a group of fans in one of the social networks.
Photo