Viewpoints Stockholm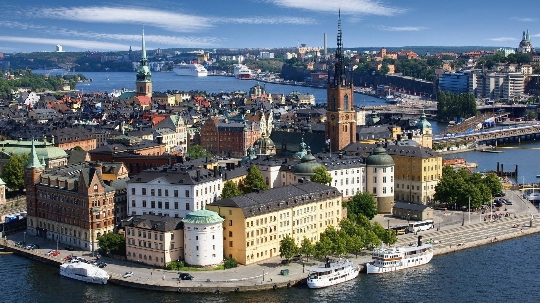 In your plans to the commission on the riseviewing platforms Stockholm? Sweden's capital city offers from a height to enjoy the lakes and hills, green parks Djurgårdens IF, business districts Norrmalm, gray roofs Gamla Stan ...
Television tower Kaknastornet
At the top of the tower, at 155 meters altitude,It is located one of the best lookouts, and opening out views of the city and the islands of the Stockholm archipelago are able to provide visitors a lasting impression. It is worth noting here that opened travel "Kaknas" desk where you can get information on matters of interest, get maps, souvenirs, subscription "Stockholm Card", as well as book a tour.
Useful information: Tickets cost: 55 CZK / adult, 35 CZK / pensioners 20 CZK / 7-15 year-olds (for owners of "Stockholm Card" - free); playground open to the public until 21: 00-22: 00.
How to get there? Before the tower tourists take the bus number 69 (address: MorkaKroken 28-30; website: www.kaknastornet.se).
City Hall
Here you can visit the Golden Hall (floor and wallsdecorated with gold mosaics) and the Blue Hall, serves Swedish specialties in the "Town Hall Cellar", and climb to the observation platform at a height of 106 meters (available only in the group guided tours). Ticket price - 60 CZK / adult, 30 CZK / 12-18 year-olds.
Address: Hantverkargatan, 1 (here go buses number 62 and 3).
Lookout Katarina Hiss
On the site to review Old Town and landscapesadjacent waters, height of 38 m, can be reached by foot along the winding stairs or lift (adults - 50 CZK, children up to 15 years - 20 CZK). In addition, it is recommended to visit the restaurant "Gondola".
How to get there? Buses number 53, 43, 76, 3, 2, or from the Slussen metro station (address: Stadtgarten, 6)
Globen Arena
It is noteworthy place is visited not onlyfor the sake of passing here concerts and sporting events, but also to ride on a "ride" Sky View. It should be noted that the glass gondola lifts visitors to the 130-meter height (it moves along the wall Globen Arena), so you can enjoy Stockholm and its islands. Useful Information: 20-minute ride for adults costs 145 kroons and to pensioners and children under 12 years - 100 kroons; a ride on the "attraction" can be on weekdays and 18:00, and on weekends - until 16:00.
Address: Globentorget, 2
Excursions
Guests of the Swedish capital, who are not afraid of heightsand indifferent to an unusual adventure, it is recommended to go on a tour of "Walking on the roofs of Stockholm." It is organized by the company Upplevmer (duration of the tour - about 1.5 hours, the cost - 595 kroons; children should be higher than 1.5 m).
Photo